Awaken your inner princess with Stargazer lipsticks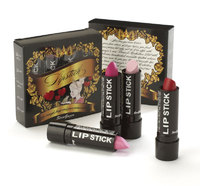 It is true you have to kiss your fair share of frogs before you find your prince but why not do it in style with Stargazer's new Princess collection?
Flirt with these delicious handpicked romantic lipstick colours that are sure to give you the most kissable lips in town. Stargazer's Princess collection arms you with your most important tool to fast track your Prince.
We are thrilled here at Stargazer to be launching 'The Princess Collection' a quad of our best selling delectable lipsticks to celebrate the royal wedding.
'Kiss enough frogs and your Prince will come' is a play on the Royal wedding and an indication of how long Kate needed to wait for her proposal. We thought we would mark the occasion and arm the average girl with her best weapon at finding her very own Prince-kissable and gorgeous lips.
The Princess Collection contains:
'See through Dress' a sheer lilac (Shade 109) Prince William first noticed Kate wearing a see through dress at a university fashion show.
'Kensington Blowdry' a burning hot pink (Shade 136) Kate is always seen sporting the perfect blowdry.
'Catwalk Cathedral' a deep red (Shade 135) Kate and William's Royal Wedding is being debated as the most fashionable to date.
'The Lady's been waiting' a candy pink (Shade 122) It did take 8 years after all.
The Princess Collection will make the most perfect gift and is sure to bring happiness and joy to everyone who uses it (oh and hopefully a Prince).
For more information and to buy online visit: stargazer-products.com