Rosy cheeks with a difference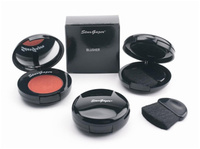 If you're feeling the winter blues and need something to bring warmth to your look, gaze no further than Stargazer's new blusher.
Stargazer blusher gives you a touch of colour whilst creating a dewy glow for that warm winter look. Whatever your skin colour, our blusher will match your tone perfectly to give you flawless rosy cheeks whilst creating a shimmery, pearlescent effect to your face that will leave you with a radiant glow.
Why merely look good when you can smell good too? Now, thanks to Stargazer, your face can smell just as gorgeous as the rest of you! Stargazer blusher is lightly fragranced with a rosy scent which gives it that extra edge.
Choose from our 12 different shades ranging from pink to brown that will compliment any skin colour. Give your cheeks the luxury of Stargazer and simply wait for the compliments to pour in!
Whether your style is punk rock, pop scarlet or neon bright; Stargazer is the brand with all the attitude and all the sparkle! It's the celebrity favourite that promises to keep you looking as funky as you feel...
Stargazer blushers cost £3 each and are available to buy at stargazer-products.com.