New flights to Aruba with KLM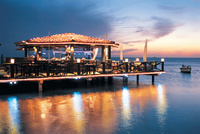 Year-round access to Aruba is becoming easier for UK visitors, with the introduction of new KLM Royal Dutch Airlines' flights on 30 October 2011.
Due to take effect when the airline's winter schedule is launched, KLM's service to Aruba will increase from 2 to 5 times per week.
UK travellers planning to connect to Aruba can catch flights to Amsterdam Schiphol Airport from 19 UK Airports, including London, Birmingham, Manchester and Glasgow.
The flights will depart from Amsterdam on Tuesdays, Wednesdays, Thursdays, Fridays and Sundays at 12:05 hours and will arrive in Aruba at 17.10 hours on the same day. The return flight will depart from Aruba on the same days at 18:30 hours, arriving in Amsterdam the next day at 10:25 hours, leaving plenty of time for connecting flights to/from the UK.
The new flights will further reinforce Aruba as one of the top 10 Caribbean destinations for British travellers. The island continues bucking the trend in the Caribbean, with year-on-year UK visitors increasing by more than 26 per cent in 2010.
Aruba Tourism Authority UK director Joanna Walding comments:
"Aruba is one of the fastest growing destinations in the Caribbean for British holidaymakers. With KLM's increased service this winter, the island is becoming more accessible than ever - with temperatures rarely dipping below 28°C, Aruba is the perfect destination for some winter sun ".
Aruba is also accessible year-round from the UK on a number of American air carriers, as well as British Airways, connecting via the States. TUI flies directly to the island from the UK from May to October.
For more information on KLM and the increased flights please go to: klm.com
For more information on visiting Aruba please go to: aruba.com