Fishing, rafting & kayaking in Oregon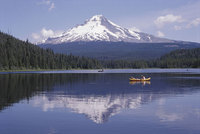 For geographic diversity and scenic beauty, Oregon's waterways are second to none and there's a whole host of guides and outfitters to show you the best...
Fishing
Hop on the Fish Train in Eastern Oregon, and catch steelhead in many locations along the Wallowa River. Or try your luck at hooking a salmon in the Columbia, Rogue or Willamette Rivers. In Oregon, the possibilities of catching a fish are seemingly endless.
Rafting
Oregon has an abundance of captivating waterways, from calm rivers for the faint of heart to swift rapids for thrill-seekers. Glide through the Upper, Middle, and Lower Deschutes River. Admire pictographs and petroglyphs on the Snake River, or challenge yourself to the rapids on the Clackamas River.
Of course, no rafting trip in Oregon is complete without a trip on the "Wild and Scenic" Rogue River. The Rogue begins near Crater Lake and flows 215 miles through the mountains and valleys before emptying into the Pacific Ocean near Gold Beach. The "wild and scenic" portion of the river begins west of Grants Pass where the river thunders through deep, narrow chasms and lures rafters by (literally) the boatload.
Kayaking
In Oregon, if there's a waterway, someone has kayaked it. Paddle through Portland, or try kayaking with a guide on the Siltcoos River Trail or the Deschutes River. You will love the serene surroundings, and you may even decide to challenge yourself on a rapid or two.
Jet Boats
Oregon has a long jet boat history - Rogue River Mail Boats have been on the river since 1895, Jerry's Rogue Jets is the first Commercial Jet Boat tour established in the United States, and Hells Canyon Adventures' full range (hair-raising, nature-based) of Snake River rides.
Your guides will take you on the adventure of a lifetime, as you zoom through Oregon's waterways—view the mountains, learn about Oregon's rich history and experience exhilarating 360-degree spins.
Boating
Oregon boaters truly enjoy the best of all worlds. We have 400 miles of Pacific coastline to ply for salmon and Dungeness crabs, world-class whitewater rivers to run, and countless lakes and reservoirs for waterskiing, fishing, or just cruising about.
Surfing
Surfing in Oregon is on the rise. From Seaside to Pacific City to Lincoln City and farther south, surf shops and camps continue to open along the coast, offering rentals and lessons for the curious and intrepid.
Kiteboarding and Windsurfing
Many call Hood River, just 45 minutes east of Portland, the windsurfing capital of the world- thanks to the incredible gorge winds that blow along the Columbia River. There are a number of windsurfing and kiteboarding instructors to be found near the Columbia River Gorge, in addition to more sporting equipment than you can imagine.
For more information, visit: Traveloregon.com