New Alicante Airport Terminal set to boost visitor numbers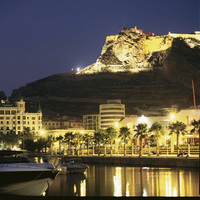 There are just days now until the official opening of the much anticipated new Terminal at Alicante Airport in the Costa Blanca, Spain. The improved facilities will be completed in perfect time for the busy Easter and summer holiday periods.
Alicante is Spain's sixth busiest airport by passenger numbers and the main airport for the Murcia region. It is also the fourth largest base for low-cost giant Ryanair with 59 destinations served by the airline. Other no-frills airlines offering discounted air travel include EasyJet, BMI Baby, Monarch and Jet2.com all providing daily services to Alicante from all major cities in the UK and Europe.
In 2010 Alicante Airport's two terminals handled 9,382,935 passengers and 74,474 flight operations. The new and long awaited terminal is expected to open on 23rd March 2011 and Terminal 1 and 2 will merge with it on 24th March when flight operations will commence.
The vast new L-shaped complex will host an arrivals and departures area plus boarding docks parallel to the runway and to give an idea of its size it is six times the combined areas of Terminals 1 and 2 spread across six floors. It will increase the capacity of the Airport from 9 million to 20 million passengers a year and any travellers passing through will enjoy new shops, places to eat and drink, luxurious VIP lounge and new baggage reclaim hall.
Ignacio Osle, Sales and Marketing Director of Taylor Wimpey de España, the leading new homes developer in the Costa Blanca region comments: "Demand for access to the Costa Blanca is incredibly high especially from the Brits, Germans and the Dutch. This directly correlates with the demand for second homes from these countries also. The Costa Blanca has a great deal to offer northern European residents, beautiful year round climate, a host of leisure amenities, developed infrastructure and close proximity to home making it quick and easy to jet over to your leisure pad even just for the weekend.
"With an abundance of discounted flight fares available throughout the year and now the increased capacity for passengers that the new terminal in Alicante Airport will provide, the Costa Blanca will continue to be firmly set in the sights of second home owners and holiday makers alike."
Osle continues: "According to a recent Taylor Wimpey de España survey most of our buyers seek a two bedroom property for under €250,000 but in the Costa Blanca you can get more for your money than in the likes of Marbella on the Costa del Sol and so Calpesol in the Spanish town of Calpe is a popular choice. Only 35 minutes from Alicante Airport these 3 bedroom, 2 bathroom properties are situated in a scenic beach side location surrounded by the breathtaking mountains and from only €165,000 they are an affordable and highly attractive option."
For more information, visit taylorwimpeyspain.com.