Brits miss out on Italian opportunities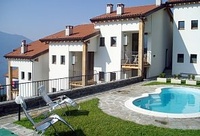 "Some of the best Italian real estate (properties) are being snapped up by non British buyers", says Linda Travella of Casa Travella, who has been selling property in Italy for 24 years.
Some recent clients in Abruzzo missed out on their ideal property by being too slow in making a decision, and the house went to a Russian couple.
The 'Brits' always seems to think there is a better opportunity around the corner. They seem to be forgetting that Italy did not suffer anywhere near as much as other countries worldwide and in Europe as a result of the banking crisis. This means that Italian property prices have not dropped as much as in other counties and according to Gabetti, the Italian Real Estate Franchise Group , the overall market in Italy is improving but is a little uneven, with high end and luxury property faring the best.
At the moment vendors are still willing to accept offers but with the market starting to improve that won't last long, says Linda.
It is normally hard to obtain very much discount on new build properties but we are still seeing a greater margin for negotiation here as well.
At the present time we are seeing the most clients from Holland, USA, Germany and Russia, so it seemed odd that Right Move made a comment on Classical FM this week saying that interest in overseas property by Brits had increased. In fact on speaking to specialist overseas agents and consultants, the answer is the same that the interest from UK buyers has increased but they are not necessarily viewing or buying.
"Now is a great time to buy" says Linda "and with 25 year mortgages on offer at low interest rates (subject to criteria) why wait any longer?"
Below are some opportunities too good to miss!
Lake Como (see photo attached - Lovely 2 bedroom apartment with beautiful lake views, just on the market, in small complex with shared pool. The property has been tastefully furnished and comes as a package ready for rental. It has an underground garage, fully fitted kitchen and spacious living room as well as 2 balconies. ONLY €169.000
Tuscany - Spacious detached house set in a quarter of an acre with large living room, kitchen/diner, study, 2 bedrooms, bathroom and covered portico. The property is being sold partially furnished.
Only just over an hour from Pisa. A great buy reduced to €255.000
Sardinia - Lovely villa very close to the sea with sea views over the Northern Sardinian coast. This spacious property has 3 bedrooms, 2 bathrooms, large living area, corner kitchen, parking for 2 cars and a private garden and portico. It is less than an hour from Olbia airport. A perfect holiday and rental home at €350.000.
There are many great opportunities in other areas as well and Linda is happy to give advice to clients on a selection of areas that will best suit their needs if she knows their budget and has some details of their lifestyle.
Linda Travella is director of Casa Travella and is known as an expert on the Italian property market. She has been selling property in Italy since 1987 and has appeared on numerous TV programmes for ITV, BBC and Channel 4, including A Place in the Sun with Amanda Lamb.
For further information, email lindatravella[at]hotmail.co.uk.