The 9.1 million property waiting list - Brazil's immense potential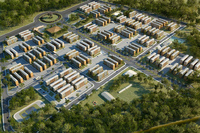 At the end of 2010, more than 9.1 million Brazilian families announced their intention to purchase a new home within the next year. Brazil cannot keep up with this demand and has a current deficit of 6 to 7 million homes that experts say will take ten to 15 years to meet. uv10's Property Fund takes advantage of this deficit and provides experienced, asset-rich developers with the finance they need in exchange for massive returns.
Samantha Gore, Sales Manager at uv10, comments, "The vast majority of Brazilians could once only dream of becoming a homeowner, but now with a sharp rise in credit, increased incomes, a vastly reduced unemployment rate of just 6.7% and the purchase terms offered under the Minha Casa Minha Vida programme, that's all changed. Literally millions of Brazilians are now eligible for property purchasing and have made it their main short-term goal. The problem they have is that availability is chronically low. A PriceWaterhouseCoopers spokesperson recently said of the market in Brazil "you can build housing forever and people will want it" and importantly, this demand comes from consumers, not speculators."
The northeast of Brazil, where the uv10 Property Fund will be focussing the bulk of its efforts, is currently playing catch-up to the rest of the country having been historically far poorer and suffering over 50% of the national housing shortage – some four million homes. This region is enjoying a proportionally faster growth rate than elsewhere, with average salaries in Rio Grande do Norte increasing by 77% from 2002 to 2009 alone.
Samantha continues, "Serious developers operating in Brazil's key markets, in particular the northeast, do not have access to or prefer not to use traditional forms of funding available in Brazil as they are both expensive and heavily bureaucratic. By working with the uv10 Property Fund, these carefully selected, successful, 'hungry' and reliable developers can turn around their construction projects very quickly and reinvest the capital early into the next opportunity – rewarding Fund investors as they do so. It really is one of the most profitable investment opportunities available in the world today."
To maintain Brazilian social and economic growth, the Government has made it a priority to give higher mortgage subsidies to the population on the lowest incomes. Introduced in 2008, Minha Casa Minha Vida attracted an initial Government investment of 64 billion Reais (28 billion euros) and will see the completion of one million new homes by the end of 2011. Phase two has now been approved with a further 72 billion Reais (31.5 billion euros) pledged to the programme between 2011 to 2014, funding the construction and purchase of a further two million homes. It operates through a subsidy to buyers and developers, reduced mortgage rates, lower taxes and other legal expenses as well as a workers' guarantee fund to mitigate delinquency risk for the banks involved. In February 2011 the Government raised the maximum value of houses eligible for the program from 100,000 Reais (43,700 euros) to 150,000 Reais (65,500 euros) in order to further reduce the deficit (these figures vary region by region).
Samantha finishes, "Entry level for investments in this lucrative sector tends to be prohibitively high for individual investors and comes with some challenging bureaucracy and the need for high levels of expertise. The uv10 Property Fund is designed to bridge this gap for foreign investors, offering them an opportunity for exposure to this growth area within an independently administered Fund."
The Fund is targeting a minimum return on investment of 119%, after fees and expenses, at the end of a fixed three-year investment period and values are accurately reported to investors as the Fund is legally obliged to file annual audited accounts. Risk is spread over a number of projects and a professional team with a solid track record in Brazilian real estate and development is in place to manage all decisions. Although past performance can never guarantee future success, uv10 is confident of being able to achieve its objectives within this Fund and surpass investor expectations.
As this is an Experienced Investor Fund, the legal minimum entry level is 100,000 euros. The Fund is closed ended and will run for three years.
The subscription period is time-limited to just three months so to take part in this Brazil Property Fund or for any other queries with regard to investing in Brazilian real estate, visit uv10.com.