'Wine by the glass' is on the up at The Granville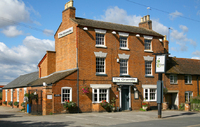 The Granville @ Barford has installed a unique wine preservation system and increased its average wine by the glass sales by 25%.
The award-winning dining pub has installed Le Verre de Vin in conjunction with its wine supplier 'Enotria World Wine' one of the UK's leading wine importers and distributors. Verre de Vin is the only wine preservation system capable of effectively preserving an unlimited number of still, sparkling and fortified wines. Customers can now enjoy a range of premium wines and Champagnes such as Sancerre or Cotes Due Rhone Mirandole by the glass without having to buy the bottle. The system creates a controlled vacuum within the bottle ensuring the wines are delivered fresh when poured.
Since its launch, Le Verre de Vin has won widespread acclaim from the thousands of hoteliers, restaurateurs and operators for whom it plays a pivotal role in the service of wine by the glass.
Val Kersey, Proprietor of The Granville @ Barford, stated "We're delighted with the system which has not only boosted our premium wine sales by the glass but has led to increased customer satisfaction. Many of our customers are delighted to pop in after work and 'trade-up' to a better quality wine knowing that its quality has not been compromised and that they don't have to buy the entire bottle!"
The Granville @ Barford is situated 1 mile from the M40 at junction 15 on the A429 sign-posted to Stow-on-the-Wold. Please visit the website at granvillebarford.co.uk for further information.