Choose your own adventure on the Island of Nevis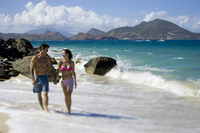 As flowers begin to bloom and snow showers turn to rain, it's time to start planning summer getaways. The island of Nevis offers visitors opportunities to hike to the peak of Mount Nevis, snorkel surrounding reefs, cycle the island's perimeter, fish on a deep sea charter or relax on a sunset cruise.
Hotels and plantation inns are offering summer packages and special offers to make an island escape even easier.
Hermitage Plantation Inn
This family-owned and operated luxury plantation inn is situated at 800 feet above sea level on the edge of the rainforest, with a cluster of 15 cottages surrounding the Great House (c. 1660), which houses a library, sitting room, bar and restaurant. The Adventure Package includes the following, or guests can choose their own adventure with the a la carte offerings.
• Seven nights in deluxe accommodations, full breakfast every morning and tea or rum punch each afternoon
• Two candlelight dinners for two
• Three days complimentary jeep rental
• 1 ½ hours horseback riding on village trails
• Guided nature hike for two
• One in-room massage
The summer rate for the seven-night Adventure Package, including service and tax, is $2,100 (approx. £1,281), based on double occupancy. For more information and reservations, visit hermitagenevis.com.
Oualie Beach Resort
Oualie Beach Resort, the centre for water sports on the island, is a classic Caribbean hotel featuring charming guestrooms and a beachfront bar with tables in the sand and live music. With the on-site Scuba Safaris dive shop, the only one on the island, Oualie is the ideal location for underwater enthusiasts and invites divers to take advantage of the Scuba Package this summer, which includes.
• Five 2-tank guided boat dives (usually from 9 am-1 pm)
• Breakfast each morning
• Free wireless internet
• Free maid service daily
• Free laundry service
• Complimentary manager's cocktail party
• Dives include tanks, belts and weights. Additional items may be rented from Scuba Safaris.
This seven-night package with accommodations in a deluxe room is $908 (approx. £554) for divers and $558 (approx. £340) for non-diving companions. These prices are based on double occupancy, valid until 17 December, 2011. For more information and reservations, visit oualiebeach.com.
SCUBA Safaris has been awarded the PADI 5-star rating and provides three instructors, two dive boats and instruction courses in both PADI and NAUI. For greater detail on the dive sites, visit scubanevis.com.
Montpelier Plantation Inn
Situated on a 60-acre estate approximately 750 feet above sea level, this plantation dating from the early 1700s, was previously a sugar estate and hosted the wedding of Horatio Nelson (later Admiral Lord Nelson) and Fanny Nisbet in 1787. The Island Experience allows guests to plan their days at Montpelier Plantation exactly as they like.
In addition to seven nights in any category room, with breakfast each morning in the garden terrace, a light dinner each evening (drinks not included), swimming in the fresh water mosaic pool, use of the private beach with complimentary shuttle, tennis on the fast playing hard court, guests can choose one of the following individualised packages to add a dash of adventure:
Mountain
- Nevis peak or tropical rainforest hike with island expert
- Warm lava stone massage per person
- Mountain bike island discovery
- Oxygen facial per person
Seascape
- Snorkel adventure
- Sea salt skin buff per person
- Guided kayak expedition along Nevis' coast
- Soul to sole massage per person
Terra
- One round of golf for two
- Refining citrus body wrap per person
- Guided ruins tour with expert historian
- Aromatherapy massage per person
Summer rates for the Island Experience package start at $3,532 (approx. £2,154) in a Seascape Premier room, based on double occupancy. For more information and reservations, visit: montpeliernevis.com
Mount Nevis
Mount Nevis is a family owned and operated hotel situated in Nevis' Round Hill Estate, on what was once a lime plantation in the early 1800s. The hotel, comprised of 32 rooms in four two-story pavilions, is located a mile above the sea, offering a pleasant, constant breeze. This summer, guests looking for adventure can book the Diving Me Crazy package including:
• Seven nights in a Deluxe Room or a Junior Suite
• Round trip ferry tickets
• Round trip ferry/airport transfers
• Welcome rum punch
• Full American breakfast daily
• Five days of a compact car rental (excluding license and insurance)
• Three days of diving (per person), two tank dives (guided dives that include tanks, weights and weight belts)
During the summer season, this package is $2,900 (approx. £1,773), based on double occupancy. For more information and reservations, visit mountnevishotel.com.
Nisbet Plantation Beach Club
Originally a plantation for growing sugar cane and later coconuts, Nisbet offers a blend of old-world elegance and modern comfort. Built on the site of an 18th century plantation, it was once the family home of Fanny Nisbet, who married British Naval Admiral Horatio Nelson.
The Sultry Summer package, valid 1 May to 14 August, 2011 includes a free night on stays of five nights or more in any room category, as well as complimentary airport transfers from Nevis (NEV) or St. Kitts (SKB). For more information and reservations, visit nisbetplantation.com.