Italian homes with historic links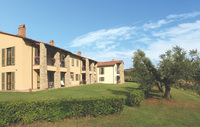 Buyers of Tuscan property who have "a zest for life and a desire to learn about the region's history" have prompted an agent selling holiday homes there to delve into the story behind them.
She has discovered that the estate on which they stand – just 24 kilometres from Florence – was at the heart of the great sixteenth century power struggle between the two families which made the city famous.
They were the Strozzi – Florence's richest family – and the Medici family, which eventually took control of the government.
Property agent Jane Guarducci, who is handling sales of the residences created by converting the estate's farm buildings into luxurious new holiday homes, reports that brothers Fillipo and Alfonso Strozzi bought the land on which they stand about 500 years ago.
She said: "Researchers tell us that they fell in love with the area, prompting them to build what is described in an ancient document as a 'noble home of a certain importance.' Filippo was the most influential member of the Strozzi family and his subsequent assassination at the hands of Cosimo Medici confirms him as the greatest threat to the power of the Medici family."
The property, located on the edge of the rural village of Montagnana in the Chianti wine region, subsequently became Villa Bossi Pucci, taking its name from the last family to have owned it for four generations
Today Villa Bossi Pucci (villabossipucci.com) is a Private Residence Club in which the holiday homes are being sold in a way said to offer the best value lifestyle option for people who cannot justify the cost of purchasing and maintaining a holiday home overseas when, in reality, they will use it for only a few weeks each year. It also means that they do not face the problems of maintaining a property abroad.
It enables purchasers to buy a one-tenth interest in a particular residence and then to have virtually unlimited use of the property, or others within the same size category.
Explains Peter Kempf, sales and marketing consultant for Villa Bossi Pucci: "For buyers this is a much better deal than schemes in which an owner's use of the property is limited to a fixed number of days each year or timeshare which may not include ownership in bricks and mortar.
"Members of a Private Residence Club are joint owners of the actual building and yet have access to all the residences in their category. Like the members of an equity golf country club wishing to book tee times, their use of the accommodation is limited only by the club's reservation policies."
He adds: "This concept has a special appeal for buyers who love Italy and want an Italian lifestyle without staying in a hotel. Many are those with a zest for life and a desire to learn about the region's history, art, wine, food, language and culture."
Described by Peter as "an ideal holiday location," Villa Bossi Pucci is within easy reach of Florence. Local buses run to the city. Also easily accessible are San Gimignano (30 km), Vinci (35 km), Siena (50 km) and Pisa (60 km). Beaches on Italy's west and east coasts are within a one-hour drive.
Current prices for a one-tenth interest in a property at Villa Bossi Pucci range from €50,000 for a one-bedroom residence and €86,000 for a two-bedroom residence to €100,000 for a three-bedroom residence. Purchasers can buy more than one interest if they wish; one buyer has already done so.
There are regular flights from UK airports to Florence and Pisa. Florence Airport is 25 minutes by road from Villa Bossi Pucci and Pisa Airport is a one-hour drive.
Villa Bossi Pucci is a member of Premier Boutique Resorts, the vacation exchange network, so property owners can exchange their holidays in Tuscany for stays in comparable Premier Boutique Resorts in beach, ski, golf and urban locations around the world.
For more information, visit villabossipucci.com.