Disillusioned with buying off plan?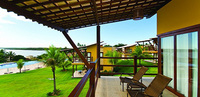 In an age where off plan property investment has become par for the course for many investors, it is very refreshing to witness a resort that is already completed to a turnkey standard and not subject to years of further development. Add to this a very favourable investment format, incorporating a 5% pa net rental guarantee over three years and peace of mind from the fact that this development won the 'Americas Residential Property Award' and you have a 'pure' overseas property investment opportunity in arguably one of the world's fastest growing economic regions.
Loxley McKenzie Managing Director of colordarcy.com said, "Brazil is one of the best overseas investment opportunities available today. It is widely anticipated that over 9 million families intend to buy property within the next year which is more than double the numbers of a 2009 study. Such numbers coupled with the current lack of housing make this an undeniably good investment opportunity. In fact a recent BBC World Service survey found the popularity of Brazilian property is growing more quickly than any other country with 49% of people viewing Brazil as having a positive influence on the world, an increase of more than 9% from the previous year."
Girassois Lagoa Resort is located 85km south of Natal in the Rio Grande do Norte region which has a growing reputation as a holiday home destination. Such is the popularity of this area that it welcomes over 1 million tourists per year. The International Airport has direct flights to many large European Airports and will play a significant role in the 2014 Football World Cup and the 2016 Olympics, which Brazil will proudly host.
This award winning exclusive development is fully operational and provides an array of facilities including, swimming pools, lagoon, restaurants and bars. Each property boasts luxurious interiors with air conditioning, LCD TV, safe, telephone, internet connection, refrigerator and large balconies with views of the Guarairas Lagoon.
Studio apartments start from just £62,000 and one bedroom townhouses from £119,000. As this resort is already operational, you could be the proud owner of a new property within just 30 days.
For more information, visit colordarcy.com.