Clooney and Como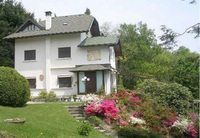 Lake Como has been synonomous with George Clooney in the last few years and that is not about to change as he will be celebrating his 50th birthday at Villa Oleandrea on the shores of Lake Como this Friday (6th May).
Linda Travella has been selling property on Lake Como for almost 25 years, well before it was discovered by Clooney!
"The most important point for clients to realise is that to enjoy a property on Lake Como you do not have to spend millions" says Linda.
Property in Laglio itself has become expensive since Clooney purchased and Linda suggests buying in other parts of the lake for better value.
If you are looking for a rental investment then we can offer a 3 bedroom property with beautiful lake view at Sala, one of the most sought after areas of the lake. The property has a garage, shared pool, private garden and 3 bedrooms and the price is €350.000. If that is a litle more than you can manage then what about a furnished 2 bedroom property with shared pool, 2 bedrooms and lake view for as little as €169.000. This property is situated on the North Western shore at Gera Lario where prices are more reasonable.
What about considering a more traditional property such as a lovely stone house in the central lake region of Tremezzo? The property is in a traditional village with restaurants and bars and the lake is 5 minutes away with all amenties at hand. The property is on sale for €215.000, and for those of you who like to grow your own vegatables you can buy a plot of land close by with a lake view for €65.000, which has olive trees, fruit trees and its own vegetable plot.
If you are looking for a villa which is not quite as grand as Clooney's, then Linda suggests looking to Lake Maggiore. For €850.000 you can buy a 4 bedroom, 4 bathroom villa close to Stresa with garden going down to the lake. Also on the hills overlooking Stresa a recently restored 1930's built 5 bedroom, 4 bathroom detached villa with magnificent views over the lake and ¾ acre of beautifully tended garden for €1.100.000.
Como and Maggiore are equidistant from Milan. "If you are looking for a property that you can use as a first or send home wthout worrying about the value depreciating then these are ideal location" says Linda.