Retirement in Spain reigns on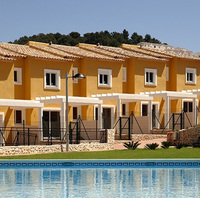 It appears that Spain's popularity as a retirement destination for Brits reigns on with Taylor Wimpey de España, one of the country's leading house builders, reporting that nearly a fifth of all their buyers choose the Iberian nation to live out their retirement in the balmy Mediterranean sunshine joining the 400,000 expats who already live in Spain according to recent research from FindaProperty.com.
Spain has been voted the number one retirement destination on a number of occasions, most recently by Standard Life in a survey compiled at the end of 2010, something that was backed up by Aon Consulting who surveyed 7,500 of its employees on where they would most like to retire to and they emerged with the same conclusion - Spain is the best place in the world for retirement.
But what is it about Spain that attracts this market'? Well it isn't just those of retirement age who love Spain, it tops the polls for holiday destinations as well, perhaps our familiarity with the country and culture is partly a reason for deciding to emigrate?
Certainly the weather is a major factor in people's decision making, who wouldn't want to live out their days basking in glorious sunshine? And it's the year round weather which helps produce such abundance of fresh fruit and vegetables, coupled with the fruits of the Mediterranean Sea, Spain offers a very healthy lifestyle and diet to its residents.
Health is without a doubt of great importance to this age group and Spain has an excellent healthcare system, although many overseas residents choose private healthcare to skip the queues. With an average life expectancy in Spain of over 81 years of age, they must be doing something right!
Of course you can't retire to Spain without your dream home in which to live out your dotage. Spain like the rest of the world has been hit by the global recession. Over the last 3 years prices have adjusted and in many prime areas these prices are reportedly at rock bottom so the crisis has presented a lucrative opportunity for buyers today to purchase their ideal retirement home in Spain for less.
Ignacio Osle, the Sales & Marketing Director of Taylor Wimpey de España, informs us:
"The market in Spain has become quite fragmented where some areas are suffering from over supply of new homes yet in many prime locations there is still high demand and not enough building to satisfy this. Across the board, however, house prices have reduced and so those looking to purchase in the best areas can make the most of the current market and snap up excellent value property before the prices start increasing once again."
This is something that Val and Mike Reay from Northumberland have capitalised on. They purchased a 3 bedroom townhouse from Taylor Wimpey de España in the Montesol residential complex in the town of Calpe in the Costa Blanca and have never looked back since!
"We love the house, the area and everything about our Spanish home. Our children and grandchildren visit regularly as do other family and friends. We spend 2 months in the UK and 2 months in Montesol alternately. We should have done it years ago!"
If you are considering in following in the footsteps of Val and Mike then get in touch with Taylor Wimpey de España to find your perfect retirement home in Spain. They offer homes in the Costa del Sol, Costa Blanca and Mallorca. For more information, visit taylorwimpeyspain.com.