Rare lakefront opportunity on Lake Como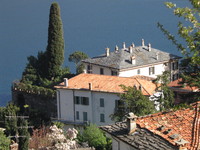 Ultissimo has been asked to find a buyer for a three-bedroom lakefront apartment on Lake Como. Located in Laglio, Apartment Spiaggia offers excellent value at under €1,000,000. It is almost certainly the only spacious three-bedroom apartment available right on the lake on the favoured western shore of Lake Como priced at under €1m.
Paul Belcher, MD of Ultissimo comments: "Lakefront homes on Lake Como usually come with a price tag well into the millions, so we were delighted when we found Apartment Spiaggia at €850,000. It needs upgrading internally, but offers exceptional value even after allowing a generous budget for a really high quality interior design. So far, we have not found anything else that compares.
"The new owner will have a spacious three-bedroom lakefront apartment on Lake Como with panoramic lake views, a boat mooring and the unique opportunity of having George Clooney as their next door neighbour," continues Belcher. "And once upgraded, it should have a value well in excess of the price that has been paid."
At one side of Apartment Spiaggia is a slipway leading to a small harbour with moorings available. Right on the other side of the slipway is George Clooney's beautiful Villa Oleandra.
Lake Como is the third largest lake in Italy, with small towns and villages scattered along its shoreline. Historically, the lake has attracted great writers and artists since Roman times. With a wealth of activities, both on and off the water, and stunning scenery Lake Como is a much sought after second-home destination.
Ultissimo operates a dedicated, tailored private buying service on Lake Como. The property search company enables international buyers to access some of the finest properties on Lake Como which change hands privately and never reach the public market.

Apartment Spiaggia is available for freehold purchase at €850,000 + taxes.

For more information, visit ultissimo.com.