Brazil property also for holidays, not just investment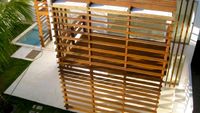 With the runaway optimism created by widespread Government social housing programmes and the hosting of the 2014 FIFA World Cup and 2016 Olympics, Brazil is attracting an abundance of serious property investor attention. However, agent uv10.com is urging us not to forget that, whilst Brazil may be one of the world's hottest investment markets, it's also the ideal setting for a holiday home.
Samantha Gore, Sales Manager at uv10, comments, "Having just launched the uv10 Property Fund, we're certainly guilty of focusing a lot of our attention on the profitable short-to-mid-term investment opportunities available in Brazil right now, but we must not lose sight of the holiday home market. In our area of focus, the north-eastern coastline surrounding Natal, we have some of the world's best beaches, average year-round daily temperatures of 28ºC, excellent cuisine, a low cost of living and a lively, friendly atmosphere. Little wonder 96% of first-time visitors vow to return."
Samantha continues, "Beachfront land is being sensitively developed by Europeans to luxurious standards with the added value of Spas, internationally branded hotels and a wide range of sporting facilities. Prices are at their best now but on an upward trajectory, particularly as Natal's new airport takes shape. With the current international airport at 110% capacity, its replacement is much needed and will become the largest airport in Latin America accepting five million passengers each year. Flying time is just seven to nine hours from most of western Europe. With free and clear title deed available to foreign property owners, Brazil is a strong holiday home contender."
The latest addition to uv10.com's portfolio is the exclusive La Réserve in Pipa Beach. Ideal for holidays or permanent living, this boutique collection of nine detached villas is in a green protected zone literally 275 paces from Pipa's main town beaches and within strolling distance of a colourful array of shops, bars and restaurants.
Deliberately high-end with a discerning customer in mind, the villas at La Réserve are spacious, Italian in design and customisable on the interior. Materials used are natural stone, polished concrete, glass and wood meticulously procured from the local Rio Grande do Norte region. The simple pure white minimalist exterior walls are encased in a wooden skin, or 'brise-soleil´, to both shade the sunshine and create patterns of light. Meanwhile, internal cloisters generate a natural light source from within the villa - an indoor garden for a constant supply of refreshing air.
Each La Réserve villa covers three storeys. The 50m² ground floor is for daytime living with a kitchen-diner leading to a verandah, large bathroom also accessible from the garden and a spacious inside-to-outside lounge room with sunken seating reaching out to the private swimming pool. The first floor is dedicated to sleeping with two 15m² bedrooms each with their own 9m² terrace sheltered by a brise-soleil and a bathroom with oversized glass porthole peering down over the indoor garden. Moving up to the top level, there's 50m² of rooftop solarium with a Jacuzzi, wooden bench seating and an outdoor kitchen / bar.
A La Réserve villa is priced at 400,000 Brazilian Reais (approx €172,400 euros or £151,000 GBP) for 124m² interior built area with 60m² of terracing set on a private plot of between 185 and 225m². This figure includes partial furnishing with top-end kitchen appliances, high quality air-conditioning, queen size beds and installation of the swimming pool. Extra furnishings and fittings are payable by the client but the developer will help to select and install free of charge. Three villas have been sold with five still available and each carries a 5% (net) rental guarantee for the lifetime of the property with four weeks personal use factored in. With La Réserve almost built, apart from tailor-making the finished article to taste, delivery is a swift 45 days after 70% payment has been made, with the final 30% payable upon completion.
For more information, visit uv10.com.