Explore the wonders of Iceland in 2012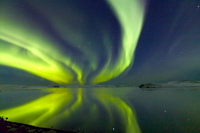 Those inspired by the dramatic landscapes showcased in this week's BBC Four "Wonders of Iceland" series can combine the country's rugged scenery and ice-torn wilderness with magnificent night-time displays in 2012.
Explorers Astronomy Tours has unveiled two Northern Lights trips for February 2012 which allow plenty of opportunity to marvel at its undulating colours from a remote and beautiful area in the north of the country.
Accompanied by Explorers' very own Galactic Ranger, Dr John Mason will host a number of lectures and discussions related to the Aurora Borealis around both the science and mythology attached to them.
With the sun's level of activity set to remain high next spring and Explorers' departures arranged around the new moon to limit lunar interference, 2012 looks set to be another prime year to experience this extraordinary natural phenomenon.
Claire Wilson, MD of Explorers, said: "We chose Iceland as the base for our Northern Lights trips as it is nearest the magnetic pole, ensuring the Aurora is more spectacular and frequent. Similarly, the stable weather patterns and clear skies of our base by Lake Myvatn maximise the chances of witnessing the natural display in all its glory and our groups were treated to nightly displays earlier this year."
Having spent time in Reykjavik, the group will spend four days based around Lake Myvatn in Northern Iceland. Only a few kilometres from the Arctic Circle, the snow-covered volcanoes, ice-encrusted waterfalls and lakes kept ice-free by geothermal springs provides the daytime backdrop with winter activities from horse riding and super-jeep adventures to snowshoeing and cross-country skiing ensuring travellers make the most of the country's dramatic landscape. By night, an outdoor hot-tub offers the ultimate way from which to take in the sky's activities.
Wilson added: "The increasing interest in the Northern Lights over the last year meant this year's trips sold out, so early booking is recommended to avoid celestial disappointment."
Prices for departures on 18 and 22 February 2012 start from £1399pp including international and domestic flights, transport, B&B accommodation and expert guides.
To find out more visit: astronomytours.co.uk