Kawasaki "Six of the Best" ways to enjoy the ER-6 series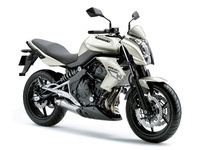 As popular with long-term motorcyclists as those new to the joys - and considerable financial advantages - of taking to two wheels, Kawasaki has just announced their "Six of the Best" campaign highlighting half a dozen great reasons to invest in a new ER-6n or ER-6f.

Examining some of the plus points most highlighted by existing riders of the popular 650cc parallel twin ER-6f and ER-6n via a bespoke "Six of the Best" microsite hosted at kawasaki.co.uk many of the six featured benefits are especially relevant in the current economic climate.

Firstly, with fuel economy near the top of the list for the majority road users, the fact that so many ER-6n and ER-6f owners are reporting frugal consumption figures of over 50 miles to a gallon is certainly worth highlighting – especially given that nobody is predicting a slump in petrol prices any time soon.

Next, and in a move to preserve the pound already in rider's wallets, Kawasaki is introducing a highly competitive 0% typical APR finance programme for the ER-6f and ER-6n with a minimum deposit of just £99 and a generous 48 month repayment term.

Third on the list is insurance, another unavoidable and sometimes daunting motoring cost. With the recent launch of Kawasaki Insurance powered by MCE, the prospect of highly competitive rates for the type of riders these bikes attract is now very real.

Naturally low running costs would always be on a list of ER-6 benefits. Obviously the clever layout of the low maintenance, twin-cylinder design is of great importance with scheduled service areas easy to access and the first valve adjustment at a heady 15,000 miles. Add to that the ability to enhance the original factory warranty to a full four years with Kawasaki Warranty Plus and the cost of ownership is certainly manageable for most, and a lot lower than many new to motorcycles initially imagine.

Fifth, and with new riders in mind, those that purchase a new ER-6n or ER-6f during the promotional period, and pass their A2 riding test, will have an industry approved power restrictor kit fitted to their machine by their Kawasaki dealer free of charge.

Finally biking bling rounds of the six amazing ER-6 benefits with Kawasaki making it easier than ever to invest with a 15% discount from the RRP for any ER series genuine Kawasaki accessory ordered at the same time as a new machine.

As Sales and Marketing Manager for Kawasaki Motors UK, Michael Johnstone, explains, many people are only now realising that biking can be economical as well as fun.

"Six of the Best is focused as a fun and informative way to bring the benefits of ER-6 series biking to the attention a huge potential two-wheel audience; as well as reminding all daily riders of the intrinsic benefits of these fun, frugal and versatile machines".

For more information, visit kawasaki.co.uk.