2011 Kawasaki Ninja ZX-10R recalled for wiring harness inspection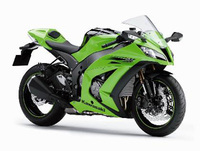 As a precautionary measure, Kawasaki have initiated a recall on all units of 2011 Ninja ZX-10R (ABS and non-ABS) for an inspection of the machine's wiring harness.

It has been observed that on some machines, the main harness can rub against the rear of the frame and, in extreme circumstances, cause damage to the loom.

Whilst no machines in the UK have been reported with any wiring harness damage, Kawasaki Motors UK has initiated a recall and is sending letters to the registered owners of all 2011 Ninja ZX-10R units purchased from Kawasaki road bike dealers.

The dealer inspection will take a maximum of twenty minutes and the harness will either be re-routed, repaired or replaced as necessary. All new and demo machines currently in dealer stock will also be inspected.