Kawasaki stand "must see features" at Motorcycle Live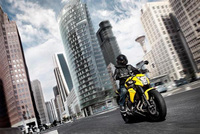 The Kawasaki stand at Motorcycle Live represents the best chance to see what promises to be the largest gathering of 2012 Kawasaki products in one place at one time.

Featuring FOUR new road motorcycles and TWO new off-road machines, the stand (G420) is adjacent to a Kawasaki racing display and awning that features many of the significant race machines that have scored successes during 2011 - and a selection destined for podiums in 2012 too.

Along with an amazing array of motorcycles, the Kawasaki stand also plays host to both show-long and special daily features like interviews with riders and celebrities. New signings Shane "Shakey" Byrne will be on hand on the opening day (Saturday 19 November) along with fellow PBM rider in the 2012 British superbike Championship, Stuart Easton.

Returning on Monday, Shakey will play a part in the unveiling of the new Paul Bird Motorsport Ninja ZX-10R race machine along with a major announcement regarding the coming season.

World Superbikes are represented on the opening day by German round race-winner, Tom Sykes who'll be on hand to explain how the amazing Ninja ZX-10R road bike has been transformed in a short time-frame into a WSB race winning machine.

Speaking of race winners, multiple podium topper, Ben Wilson will explain on both days of the opening weekend how close and exciting the 2011 British Supersport Championship was and his ambitions for the coming season having re-signed for the Gearlink Kawasaki team. Sharing the stage with Wilson - and talking about how he played a major part in developing the "2012 Rules" Kawasaki British superbike - will be local rider, Gary Mason.

Mixing with their riding heroes at the show, Kawasaki fans will see - and be able to sit on and find out about - all of the new road bikes for the coming year, as well as the entire offroad range. With what is recognised as being the most comprehensive motorcycle range for years, the debut of the four new road machines in the UK will be eagerly awaited.

For UK riders, the Versys 1000 is of particular interest. A litre capacity big brother to the already successful 650cc Versys, the 1000cc machine has been announced at just £9499 and features rider selectable traction control and power mode settings as standard as well as advanced ABS and an engine and chassis tuned for a vast range of riding situations.

Both brand new ER machines will also appear. Recently launched, the ER-6n is a funky and fashionable total update of the high-selling machine with even more quality features for the coming year plus a sexy new "double-pipe" chassis and swinging-arm. The ER-6f model has yet more supersport style for 2012, and with subtle suspension tweaks and even better low to mid-range power, will find a place in the hearts of those ready for their first "proper bike" in addition to time served riders who appreciate its outstanding virtues.

For those wanting cubes, power, control and sheer presence, the ZZR1400 arrives totally updated with more aggressive looks, more torque and..... more power! Promising a class leading spec that includes traction control, power mode selection, a back-torque limiting "slipper" clutch and advanced ABS braking, the ZZR1400 is set to be the Hypersports bike of choice next year. Updates across the board include new frame components, a longer swinging arm, uprated suspension and a raft of engine changes all focused on delivering the sort of ultimate ZZR experience that its loyal fan base have come to expect.

For each day of the show - both at weekends and during the always popular week days - Chris "Stalker" Walker will be an obvious draw. Having just launched his very own Motocross practice track, the Kawasaki man will be promoting his latest venture, the Chris Walker Race School. Using Ninja machinery, the Mallory Park based school will run throughout 2012 and promises riders the best ever track experience and the chance to be taught track-craft by

Stalker and a host of other British Superbike stars.

In terms of rider experiences, there is nothing to rival the recently re-launched Kawasaki Riders Club who will have a specific area of the stand dedicated to them. Staff will be ready and willing each day to explain the vast range of valuable KRC benefits on offer plus a special VIP area available to members at the show itself.

Looking towards the second weekend of the show, Dirt Day makes the final Saturday a must-see for MX, Enduro and trail riding fans. World MX star, Tommy Searle will be on the Kawasaki stand ready to sign autographs and talk to fans about his amazing career and to discuss his plans for 2012 riding his KX250F factory machine. Joining Tommy are the Maxxis Henderson LPE Kawasaki team with Ray Rowson and David Goosen being interviewed about their hopes and dreams for the new season.
Final day of the show on Sunday 27 November is being promoted as "TT Sunday" and that means Irish road race legend Ryan Farquhar will be present. He'll be joined by rising stars James Hillier and Victor Cox as well as recognised TT experts, Ian Lougher and returning sidecar legend, Dave Molyneux.

"There is so much going on and so many significant new models it will be hard for show goers to know where to start on the Kawasaki stand", said Sales and Marketing Manager for Kawasaki in the UK, Michael Johnstone. "We've tried to ensure that as many bikes as possible can be sat on and experienced. Likewise, our Kawasaki staff are eager to answer any possible enquiry, to arrange test rides and offer the warmest welcome at the show.

This is our best chance all-year to show our wares, meet up with existing riders and welcome new riders to Kawasaki. With something going on every day, and updates via our Facebook and Twitter pages across the entire show, it's going to be an amazing experience!"