Chris Walker chooses Kawasaki Ninja for new race school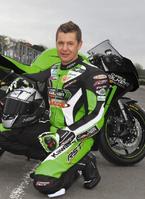 Inextricably linked with Kawasaki - and enjoying considerable racing success on Ninja machines, including his historic Assen World Superbike race win - Chris Walker is set to unveil a long held ambition to launch a Race School based at the Mallory Park circuit in Leicestershire.

Walker has spent a considerable time planning the new school and the adoption of Ninja ZX-6R machinery is just one aspect of the overall concept as he explains;

"There are plenty of track days available in the UK for people to rock up and just go round and round making the same mistakes all day and not progressing. What we are offering is a different level altogether. This bespoke Race School represents a total experience based on what I would expect as a customer".

Committing to personally supervise each event and act as one of the many top name tutors at the school, Walker will operate a fleet of brand new Ninja machinery available for customers to ride plus leathers and other protective gear adding to the quality focus of the day. Along with race machines and protective clothing, the school has also partnered with other significant sponsors like Maxxis tyres, Scorpion Exhausts, Motorex lubricants, DID and Vesrah plus the Mallory Park circuit itself all of whom Walker is sure will benefit from the positive exposure.

"Clients will be treated like racers from start to finish with grid girls to meet them at the start of the day, a briefing then overview from myself followed by Warm Up, Free Practice sessions and finally, a Superpole session. We'll cover braking, accelerating, lines and gears as well as rider positioning, all with myself and other top BSB racers as tutors working directly alongside our guests on and off track throughout their experience.

Superpole will allow all riders to exploit what they have learnt in attempt to set their fastest lap time around Mallory Park and then, as a fitting racer style end to the day, a podium celebration with awards and Champagne, just like an actual race event."

With live on-screen timing plus on-bike video and other innovative ideas like a ladies only day planned for the school, customers can also move on at a later date to taste the ultimate Kawasaki track experience on the awesome 200 horsepower Ninja ZX-10R as Walker explains;

"Mallory Park is such a great place to run our school. Riding the Ninja ZX-6R, every single client will learn more about bike control and their lap times will reflect this. We will then invite each to apply for the Pro Race School on the mighty Ninja ZX-10R. As a British and World Superbike race winning bike, the Ninja ZX-10R is the ultimate adrenaline rush. We'll ensure that everyone on a Pro-Rider school feels the same as I did when I stood on the top step of the podium at Assen as a Kawasaki WSB rider".

Launching the school at Motorcycle Live! with the cost for the Supersport school at under £300, Walker and his team will be on hand every day as part of the Kawasaki Motors UK stand offering a special Launch Edition gift box which includes everything you will need for your day on track like Wiz Knee Sliders, Chris Walker Race School T Shirt, Ear Plugs, Kawasaki Racing Key ring and Pen, Visor graphic and Maxxis Stickers..

"Of course it's been a huge effort", concludes Walker, "The reward for our customers will be a truly unique and memorable day. The Chris Walker Race School will represent the ultimate Kawasaki track experience, of that we are certain."

For more information, visit chriswalkerraceschool.com.