Community event at Dartford property development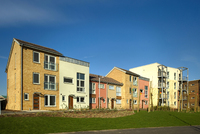 Taylor Wimpey is supporting a special event for residents of its The Bridge development of new homes in Dartford, Kent.
A celebration of good food, great entertainment and fantastic community spirit is being held at The Bridge, Taylor Wimpey's sought-after development of property for sale in Dartford.
Residents from the leading housebuilder's new community of apartments and houses in Dartford will gather at the third annual Big Lunch event on Sunday 5th June for a free afternoon of fun.
Organiser Bart Woodhouse, Pioneer Minister of the Beacon Church, says: "The ethos behind the Big Lunch is getting the community together and celebrating the cultural heritage of that community by bringing along food to share that represents that heritage. It could be a traditional food from your country of origin, or perhaps a favourite signature dish.
"Food is a big part of the day, but it is also an opportunity for the community at The Bridge to celebrate the talents of the people living there. So we will have a number of youngsters from the Kent County Council's youth service Learning Campus entertaining the crowds on the day."
Entertainers from the campus will include the youngest member of the Magic Circle performing tricks, as well as singers and a band.
In addition, there will be a circus skills school, demonstrations from a resident's fitness club, a kickboxing club and a boxing club. Neighbours will also be able to team up for the ever-popular tug-o-war and football kickabout.
Taylor Wimpey has provided a bouncy castle and inflatable gladiator arena for the event, while other attractions include face painting, crafts, police demonstrating fingerprinting and security marking bicycles, a barbecue and a talk from a local historian.
A sculptor will also be present, to make plaster casts of residents' hands, which will be used in a future sculpture.
Bart adds: "I'd like to thank Taylor Wimpey for its support of the Big Lunch and hopefully we'll be able to work together on other community projects in the future."
The Big Lunch starts at midday on Sunday 5th June and runs until around 5pm, at The Bridge Learning and Community Campus, Birdwood Avenue, Dartford.
Property-seekers hoping to be part of the new community at The Bridge, can visit the Sales and Marketing Suite, located off Brunel Way, via Bob Dunn Way, Dartford, and open seven days a week from 10am to 5pm.