Photographic workshop in Iceland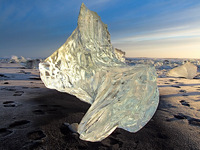 Wild Photography Holidays are an innovative UK/Iceland based travel company, specializing in small-group photography holidays and workshops to wild and inaccessible places have just announced a late September Icelandic departure.
Iceland has some of the most spectacular and easily accessible Ice in Europe, this intensive Ice-workshop will gets right in there providing a unique opportunity to capture some striking and dazzling ice images. The well-chosen and varied icy locations will inspire creativity with some dramatic imagery enhanced by the refraction of light and a vast array of abstract patterns and colour. An exploration of the Glacier Lagoon by boat will complete the immersion into this remarkable and surreal Arctic environment location for films such as James Bond's 'Die Another Day' 'A View to a Kill' and 'Lara Croft Tomb Raider'! An opportunity to capture the ephemeral Aurora Borealis (northern lights) will surely be an added bonus!
Highlights
Luminous icebergs floating in a surreal turquoise lagoon
Bizarre glacial landscapes up close
Superbly located Hotel in Skaftafell National Park
Weird ice formations on black volcanic sand
Spectacular flights across Iceland to Hofn
Ephemeral Aurora Borealis (northern lights)
Surreal Blue Lagoon-total relaxation in milky geothermal waters!
Whilst on location tutors will be working alongside participants offering technical and creative advice, practical help and encouraging a sound photographic decision-making process to facilitate the creation of some memorable and technically dramatic images. Whether you are a beginner with your first DSLR or are considerably more advanced, this workshop will take you forward to the next level.
This workshop departs 22 September 2011 for 5 days. Price: £1,285 (2.105 USD approx) per person, including all hotel accommodation, return flights across Iceland, in country transport, most meals, the services of guides and photographic tutor, admission to the Blue Lagoon, Fly-bus transfer to and from the International airport, Reykjavik. International flights are not included.
Special Offer: There is a 50 pound per person discount for 2 people booking together before the end of June and sharing a room.
"We felt privileged to see your truly incredible country, words cannot do it justice, you just have to go there and see, we had no idea that it would be so amazing… we came home with some really unusual images of the excellent locations that we visited...the Lightroom tuition really opened our eyes to the myriad possibilities of developing images, thanks Martin!" Megan and Michael Whittaker, May 2010
Geraldine Westrupp, Wild Photography Holidays Projects Manager and guide commented, ''...our aim is always for participants to return home having had a great experience, with some special images, having had lots of fun with some new like minded friends.''
Martin Sammtleben Creative Director and a tutor on the September Ice workshop added, ''Iceland is a very happening place for modern landscape photography, quite often the terrain here does not conform to idealized images of a beautiful landscape, it stretches the imagination, the outcome is often a portfolio of 'out of the ordinary' and very unusual images"
To book, visit: wildphotographyholidays.com