Ontario resident invests in Brazilian property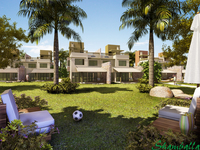 With a housing boom based on the local population getting richer rather than the banks getting more excessive in their lending, Brazil continues to attract high levels of investment from foreigners. Arlen Mifflin, a 36 year old Financial Advisor from Windsor, Ontario, is amongst those astute individuals who have spotted Brazil's potential and he intends to profit from the bullish market.
Arlen explains, "Brazil offers immense prospects for capital appreciation and rental income as the country is not only an up-and-coming tourist destination but also enjoying huge growth amongst its middle classes which fuels a strong internal property market. Factor in the FIFA World Cup 2014 and the Olympics in 2016 and success is all-but guaranteed."
Arlen continues, "Through Brazil specialists, uv10.com, I have invested in a small portfolio of different kinds of Brazilian property across very different resorts – two apartments in Edificio Dr Geraldo Furtado in Natal's city centre alongside a townhouse and plot at Shamballa in the kite-surfing mecca of São Miguel do Gostoso - and purchased them via the now universally-recognised concept of a Real Estate Investment Trust or REIT. This vehicle enables us to see rental income, capital growth upon sale and personal usage of the property for holidays at no extra charge. Some property we will keep, others we will 'flip' when the time is right, but we are most definitely in for the medium- to long-term - the short-term is a fool's game."
Based on his experience investing in Brazil and in literally dozens of other countries across the globe, Arlen believes it is now more important than ever to work with estate agents who do their due diligence, collaborate with honest developers and who are prepared to roll their sleeves up and resolve issues rather than just take the commission and vanish. Likewise he emphasizes the value of a solid lawyer who will check official title and any potential legal or environmental problems as Brazil can be very bureaucratic and complex – particularly when it comes to correctly registering funds sent into the country.
Arlen finishes, "Make sure you choose wisely when investing in Brazilian property. There is a lot of land, just like in Canada and Russia, there is also a lot of beachfront land, which many automatically assume means 'prime' – that's simply not the case. You need to be near tourist areas with facilities and building permissions in place and you need to do business with a well-funded developer who will commence construction soon after you commit to the purchase. Brazil is not a country with only a few stretches of so-called 'prime' land available - it's huge, and people are selling great-looking plots that are simply not worth much and won't be for at least 15 to 25 years. Choose your product and your estate agent wisely – for me uv10.com offered top-notch service combined with in-depth local knowledge enabling me to make the best possible investment decisions."

Shamballa
Some 90 minutes' north of Natal sits the until-recently undiscovered village of São Miguel do Gostoso, tipped to be the hottest town for the future of tourism in northeast Brazil and also the setting for Shamballa Resort. This gated residential community, occupying a tranquil spot just a few hundred metres from 30km of untouched sandy coastline, offers a range of amenities alongside 16 turnkey townhouses and 46 blank canvas villa plots ranging between 500m² and 900m² in area.
Shamballa, which means 'place of peace tranquility and happiness' in Sanskrit, will have sports courts, social and barbecue areas, a yoga studio, children's playground and swimming pool with swim-up bar. Full rental and property management services will be available for all owners as well as architectural and construction services for those wishing to self-build. Off-site, the neighbouring 9,600-inhabitant village of São Miguel do Gostoso is within five minute's walk and brimming with quaint bougainvillea-draped shops, bars and restaurants.
Brazil's young jet-set and international kite-surfers have recently taken the area to heart, drawn by its white sands and near perfect wind conditions on the headland. Since 2009, when both internet and mobile phone access became available, São Miguel do Gostoso has started to attract visitors in their droves and in high season it is impossible to get an overnight stay without booking well in advance. Further increasing its fame, a feature-length documentary on this remarkable town is to be released nationwide this year. Music to the ears of Shamballa investors who will have a captive rental audience in an ever-more popular location.
Prices at Shamballa start from 62,550 Brazilian Reais (approx. 24,230 GBP) for a 521.01m² plot and from 258,000 Reais (approx. 99,900 GBP) for a two bedroom townhouse.
For more information, visit uv10.com.