Bikers raise charity cash with Eurotunnel Le Shuttle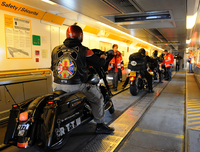 The fourth annual D-Day Ride Out, in aid of Aspire, to France saw around 120 motorcyclists plus pillion passengers travel with Eurotunnel Le Shuttle for the charity fundraising event on Friday 17 June.
Organisers, GBRiders, hope to raise £10,000 for the charity Aspire, which supports people with spinal cord injuries, and is a cause close to bikers' hearts.
Motorcyclists made the 35-minute crossing through the Channel Tunnel from Folkestone to Calais before riding down the French coast to spend the weekend in Le Touquet. The cost included a return crossing and a donation to Aspire.
Aspire's Director of Fundraising and Marketing, Chris Field, said Eurotunnel Le Shuttle's frequent, fast and reliable services made them a favourite with riders taking part in the annual event. "This was not only a great weekend of riding and meeting up with other motorcyclists, but vital money has been raised for a charity which provides practical support for people with spinal cord injuries."
Eurotunnel Le Shuttle is the natural choice for a motorcyclist – last year more than 45,000 motorcyclists used the fastest direct route between the open roads of the UK and the Continent, an increase of nearly 10% on 2009. Customers pay half the price of a car.
Eurotunnel Le Shuttle's Marketing & Sales Director, Harvey Alexander, said: "Motorcyclists tell us they really value the speed and convenience of our service. They don't have to worry about the security of their belongings, or strapping their motorcycles during transit. They stay with their motorcycles in the safety and comfort of the carriages during the 35-minute crossing."
Eurotunnel Le Shuttle is the fastest cross-Channel operator by car and motorcycle, with up to four departures an hour. And with no luggage restrictions, quick and easy check-in and boarding, no fuel or baggage supplements, and no credit card booking fees, it's not surprising that more people are choosing to travel with the service.
To find out more about Eurotunnel Le Shuttle's great fares for motorcyclists, plus tips on how to get the best fares, visit: eurotunnel.com
To find out more about Aspire, and how to make a donation to the D-Day Ride Out campaign, visit: aspire.org.uk