Buying tips for traditional Tuscany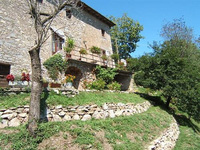 Tuscany has been a favourite of the 'Brits' since the 1960's and yet a number of clients believe that property prices in this particular region are outside their reach.
Well according to Linda Travella of Casa Travella, who has been selling property in Italy for 25 years, the 'Tuscan Trend' continues and you will be surprised to find that there are properties to suit all budgets. At the moment it is still a buyers' market and many good properties at competitive prices can be found, says Linda. However the trend is starting to change and only recently a client who went to view a property that was new onto the market, waited 2 weeks before saying she was interested and by that time the property had been sold! Is this a sign of changing times??
Linda's advice is to make sure you tell your property professional that you are interested in a property. It is important that the agent/consultant is acting on your behalf and not that of the vendors, which often happen. Clients think that if they buy directly in Italy they will not pay commission, in fact they do indeed pay and normally to the vendor's agent.
You will be surprised at the affordable prices and property to buy with prices ranging from as little as €50.000 to millions.
Here is a selection of properties currently available which are good value.
Just 20kms from the walled city of Lucca you can buy a detached 2 bedroom property set in half an acre of garden and olive grove with space to build a pool. The property is in a small village just 3kms from Borgo a Mozzano, where there is a train service to Lucca/Pisa. Price only €210.000.
Maybe you prefer a property with a shared pool; for €190.000 you can buy a 2 bedroom apartment in a restored hamlet. The apartment is built in the traditional style and is 45 minutes from Siena and an hour from Florence and the sea.
If you like city life then a restored apartment in the centre of Florence with 2 bedrooms and 2 bathrooms is on offer at €390.000.
Here are a few useful tips from Linda to assist you when thinking about your purchase:
1. Always have in mind your general requirements, but be prepared to review these once you have got a feel for the area. Be flexible!!
2. Tuscany is a large region and offers a huge selection of differing types of property, think about which one is right for you and your lifestyle.
3. Once you have decided you want to buy, don't wait, or you could lose out!
4. Remember purchasing in Italy is different to the UK, and once a contract is signed, it is binding - Great, no gazumping!!
5. Remember whenever and however you buy in Italy you will pay commission.
For more information, visit casatravella.co.uk.