Summer bargain breaks in Paris spark cut price journey demand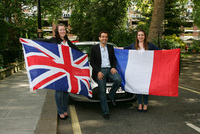 Carpooling leader BlablaCar is witnessing a significant rise in demand for trips to Paris from London as Brits look to capitalise on bargain breaks in August.
Nicolas Brusson from BlaBlaCar said: "Although many Parisians leave the capital of France in late July and August for the beach, Brits can benefit from deals on those hotels that remain open and the quieter streets, parks and tourist attractions.
"Clearly those that are looking for a bargain want to get there as economically as possible, and carpooling is now a real cost effective option for these people."
For instance a passenger using BlablaCar can travel to Paris for as little as £23.69* per passenger.
Highlights to catch alongside the usual sites such as the Eiffel Tower and the Louvre include the 10th Paris Plages, or "Paris beach", which runs from 21 July to 21 August, and two free open-air film festivals: La Villette's, (villette.com), which runs 19 July to 21 August; and the "Cinéma au clair de lune" festival (forumdesimages.fr) from 2 to 21 August.
French company, Comuto, launched its successful carpooling service in the UK in May following huge success in France, where over one million users have saved €100m since January 2009.
The service, known as Covoiturage.fr in France, has been a phenomenal success amongst drivers and passengers alike who are frustrated at disruptions to air and rail transport and hard hit by increasing petrol prices and rising public transport costs. The site, founded in 2006, is growing by over 50,000 users per month, not only saving €100m since 2009 but also over 200,000 tons of CO2, making it an environmentally friendly way to travel.
*Price on 19.07.11. Driver was travelling from London to Paris on the on Friday the 19th of August in a Peugeot 307