The Legendary Black Water Rafting Co - one of the worlds best!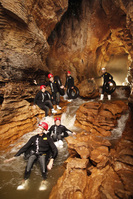 The Legendary Black Water Rafting Co., Waitomo Caves, has been named one of the world's best by TripAdvisor, the world's largest travel site. Rated 9th on the list by the site's travellers and editors, The Legendary Black Water Rafting Co is the only tour within Australasia to make the list.
"We're delighted to make the top 10," says Discovery Waitomo Brand Manager Liz Lindsay. "Our experienced team at The Legendary Black Water Rafting is totally committed to sharing the stunning underworld of Ruakuri Cave with travellers, taking them on an unforgettable journey through rock, water and darkness.
"Like the other great adventures on the list, we offer an exhilarating and fun experience as well as a unique way to explore and learn about this diverse underground landscape."
The Legendary Black Water Rafting Co. is New Zealand's first black water rafting adventure operator, and has been sharing thrills and excitement with overseas and local visitors for over 23 years, she says.
Described by TripAdvisor as "Fearless Fun", The Legendary Black Water Rafting Co. offers travellers the chance to "explore the dark depths of New Zealand's Ruakuri Cave during the five-hour "Black Abyss" expedition. Adrenaline junkies will rappel down a 35-metre crevasse, before experiencing the darkness of this subterranean wonderland, which is dimly illuminated by thousands of glowworms. Adventurers opting for a shorter outing can embark on the "Black Labyrinth" tour, which sees travellers climbing and tubing along a winding underground river surrounded by cascading waterfalls. A TripAdvisor traveller called this tour, "An amazing, unique experience!" "
For more information, visit waitomo.com.
The Top 10 were announced on July 7, 2011.
TripAdvisor Top 10 Adventure Tours in the World
1. Living the Dream Divers, Seven Mile Beach, Cayman Islands
2. Hang Gliding Interlaken, Interlaken, Switzerland
3. Patara Elephant Farm, Chiang Mai, Thailand
4. Selvatica Canopy Expedition and Adventure Tour, Cancun, Mexico
5. The Great Wall of Jiankou - The Great Wall Hike, Beijing, China
6. Desafio Adventure Company, La Fortuna de San Carlos, Costa Rica
7. Jackson Hole Whitewater, Jackson Hole, Wyoming
8. Exit Glacier Guides, Seward, Alaska
9. The Legendary Black Water Rafting Co., Waitomo Caves, New Zealand
10. North Shore Shark Adventures, Haleiwa, Hawaii