Exiting Essex - Easyjet launches new routes to Spain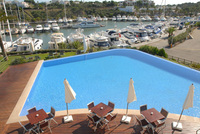 The quickest way out of Essex next year is likely to be via Southend International Airport as easyJet, the low cost airline, has announced 70 new international flights a week to Europe.
This is even better news lovers of Spain as five of the first eight routes from Southend are to the Spanish Costas, perennially popular holiday destinations with Brits. These flights will also prove welcome relief from the trauma of motorway travel to Gatwick, Luton or Heathrow especially around holiday times.
Flight destinations include Alicante on the Costa Blanca, Malaga on the Costa del Sol and the Balearic island of Majorca which mirrors the three hubs in which Taylor Wimpey de España, the leading house builders in Spain, operate.
Ignacio Osle, Sales and Marketing Director of Taylor Wimpey de España, comments on the news of the new easyJet flights: "For people buying property overseas it is very important that they have affordable and easy access to their property. These new flights operated by easyJet from Essex are really terrific news for both our prospective buyers and our current Taylor Wimpey de España home owners.
"The 800,000 people who will be flying in to Spain from Essex will all need a holiday apartment, villa or hotel to stay in which bodes well for our existing owners who are keen to let out their homes for healthy incomes. There is a great deal of affluence in the South East of England and we look forward to showing the more aspirational around our beautiful show homes; it is difficult not to want to buy once you have seen the fabulous opportunities available here."
Fares from Southend to Spain will be priced from as little as £25.99 and commence from April 2012.
Taylor Wimpey de España who recently received an 86% customer satisfaction rate for 2011, are providing the perfect opportunity for potential investors to view their fully furnished ready to move into properties in Mallorca with properties such as El Puerto II, Cala D'Or.
El Puerto II consists of two bedroom apartments located on the south east coast of the island, very close to the stunning celeb hangout of Cala D'Or marina costing from just €177,000 with furniture included. With 3 communal swimming pools available these properties are surrounded by outstanding natural beauty offering various other activities such as water sports, biking and golf in the local area.
For more information, visit taylorwimpeyspain.com.