New! Pout Paint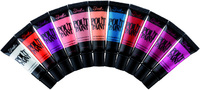 Intensive lip pigments with staying power... that are made to be mixed.
Bursting onto the scene with no apologies is Sleek MakeUP's Pout Paint, a range of 11 über intensive, long lasting lip pigments.
These tubes of fun contain intense pigment, where one small drop goes a looooooooooooong way! Using a small bead of Pout Paint, smooth onto your lips and the mind-blowing vibrant colour gives you full coverage that lasts for hours and dries to a satin finish. Get mixing... Pout Paints are made to be mixed!
Unleash the wannabe makeup artist within and create your own unique shades. Need a pastel pink, a warm peach, or an orange based red? By mixing 1, 2, or 3 colours you can create any Pout Paint shade you need.
Use Cloud 9 for cooling and Peek-a-Bloo for warming - Pout Paint put a limitless number of shades in your makeup bag.
If you can't bear the thought of losing your mixed shade, pop it in a little pot and guard it with your life!
When you're feeling creative, get mixing! But if you're on the go, you'll be forgiven for having just one Pout Paint in your handbag. Pick up your favourite shade for an instant burst of vivid colour.
Non-sticky, highly pigmented, long lasting, and fantastic fun to mix... Pout Paint is the new Lip Fix.
Application: Use your finger or a lipbrush to apply just a tiny bead of Pout Paint.
For more information, visit sleekmakeup.com.