Impressive finale to theatre schedule at Hodsock Priory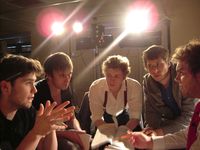 Families enjoyed 'Wind in the Willows', Shakespeares Globe Theatre brought 'As you Like It' to Nottinghamshire for the first time and in an impressive conclusion to the theatre programme at Hodsock Priory 'The Dumb Waiter' by legendary playwright Harold Pinter will be staged against the backdrop of the stunning Pavilion in the Priory.
The Persona Theatre, directed by local man Nico Vaccari, will perform its exciting, engaging and thought-provoking production of this classic play which will tease the mind and fuel the imagination, on 11th September, as part of its current tour.
"We are delighted to have Nico and the Persona Theatre perform this classic play at Hodsock providing a great finale to our first ever theatre programme," commented Lindsay Jones events manager at Hodsock Priory. "It is particularly poignant for me as Nico is an ex-student of mine when I was assistant head teacher at Elizabethan High School and it is always a proud moment when you see how pupils have succeeded."
Nico, 20, from Lincoln, who formed Persona Theatre has also been accepted to the prestigious Drama Centre in London claiming one of only five places from over 4,000 applicants where he will pursue his dream of furthering his directing career.
"Following on from the success of 'Woyzeck' last year, we are thrilled to be able to bring such an intense adaptation of this classic Pinter play," said Nico. "The magical history of Hodsock Priory offers the perfect backdrop for providing atmospheric drama and intrigue complementing the themes of the play perfectly. The theatre is an art form for experience and to experience, where we go to be moved, to feel, to express and to reflect. Our company aims to create a performance which encapsulates the audience from the very beginning, a production which allows the audience to feel and experience, both mentally and physically, the emotional journey of the characters on stage."
The Persona Theatre takes immense pride in working as an ensemble which brings works of literature and theatre to local venues.
"When true silence falls we are left with echo but are nearer nakedness." - Harold Pinter.
The performance will commence at 7.30pm on Saturday 11th September and tickets, which are priced at £8, can be obtained by calling the Priory on 01909 591204 and selecting 'option 2'.