Flexible Christmas and New Year ski breaks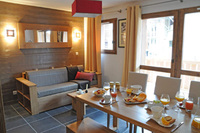 Both Christmas Day and New Year's Day fall on a Sunday this year, making it a bit more complicated for those who are tempted to get away to the Alps for their first ski break of the season. To help make holiday planning run more smoothly, Lagrange is offering customers extra flexibility this winter holiday season with flexible arrival days, 8 and 9 nights for the price of 7 and short breaks.
Flexible arrivals
Over Christmas and New Year, Lagrange is offering flexible arrivals at selected self-catering chalets and apartments, giving customers the choice to start week stays on Friday, Saturday, Sunday or Monday. For example, Christmas at a one bedroom ski-in/ski-out apartment in the Lagrange Prestige Les Chalets Edelweiss in Plagne 1800 is £1750/apt/wk either from Monday 19/12 to Monday 26/12 or from Saturday 24/12 to Saturday 31/12. Or for those who prefer to travel on a Friday, Christmas at a two bedroom apartment in Les Montagnettes Cimes & Vallon in Belle Plagne is £2630/apt/wk from Friday 23/12 to Friday 30/12.
8 and 9 nights for the price of 7
In addition to flexible arrival days, Lagrange is offering 8 and 9 nights for the price of 7 at selected accommodation. The possibility of arriving one or two days earlier at no extra cost allows more time on the slopes in addition to the choice to arrive on whichever day is best. Self-catering chalets in Morillon are on offer for 8 or 9 nights for the price of 7 over Christmas from £965/chalet while chalet apartments in Courchevel are available for 8 nights for the price of 7 from £3270/apt over New Year. And for those who prefer a pre-Christmas break in order to be home in time to spend Christmas with the family, one bedroom apartments in La Rosière are only £1521 for 8 nights from 16/12 or just £1372 if booked before 31/10.
Short breaks
Already used up your holidays for 2011? Never fear, the four-day Christmas weekend and three-day New Year weekend offer the perfect opportunity to escape to snowy peaks for a short break and one of Lagrange's recommended hotels close to Geneva will maximise your time on the slopes. Over New Year, the three-star Hotel Le Petit Dru in the charming resort of Morzine is £379/adult for three nights 30/12-2/1 on half board, including New Year's Eve dinner, based on two sharing a twin or a double room. Or for a longer stay over Christmas, the two-star Hotel Richemond in the centre of Chamonix is £226/pp for four nights 23/12-27/12 on B&B, based on two sharing a twin or double room.
Lagrange Ski 2011/12 offers one of the widest ranges of French resorts, from villages to large ski domains. Forty-eight resorts feature in the brochure and an even wider programme of over 70 French resorts is available online. As well as high-end self-catering Lagrange continue to feature accommodation to suit all budgets and styles, from simple studios to large self-catered chalets, plus a selection of short ski breaks. Accommodation can be booked alone, or with ferry, Eurotunnel and rail packages. For brochures and reservations, visit lagrange-holidays.co.uk.