Acacia Africa launch new website with celebratory discounts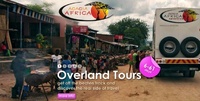 Acacia Africa have an unrivalled passion for the continent, so you can expect more than a list of itineraries on the tour operator's revamped website. Taking their cue from the social networking sphere, the new and improved URL is packed full of endless reviews, tales from the road (a regularly updated section), and Africa-centric staff profiles that will have you itching to jump on an overland expedition, small group safari or voluntour in no time. Known for it's diverse wildlife, you'll also find location specific round ups on each country, and related tours allowing you to fine-tune your destination hit list.
Heath Ashcroft Marketing Director of Acacia Africa, comments "We wanted to create a balance of tour information and need to know insight that will help adventurers in deciding when to book and what to book, while at the same time sharing Africa from the real adventurers' perspective. There are numerous short reviews on the site, a mirror of our Facebook page which features an "Acacia Life: Real Wanderers" photo gallery dedicated to previous travellers' blogs. When it comes to Africa people tend to spend a lot of time planning their Big Five trip, so our regular news updates will also help our website visitors get the most out of their holiday, and keep them coming back for more."
The Africa specialist is celebrating the launch with a 20% discount on the top three most popular tours to be booked online including, the 41-day Cape Town To Kenya (save £255pp), the 29-day East African Explorer (save £209pp) and the 25-day Desert Tracker (save 159pp) *.
The website includes options to search by length of tour, departure date and tour style, with guaranteed departures clearly listed on the online booking page.
Heath Ashcroft, continues, "We've guaranteed almost 400 departures from now up to the end of 2011, and we have another 146 trips ready to go from the beginning of January 2012."
A new "Soft Adventure" selection has been created for those who want to upgrade their accommodation and spend time in a smaller region of Africa, and the tour operator's city and beach based itineraries are ideal for anyone looking to get to grips with a more specific location or choosing to extend their stay. More importantly, Acacia Africa is sending a clear message to adventurers who want to see the continent "Affordable Africa" highlighted prominently on the tour search facility.
Heath Ashcroft, concludes, "There's a cost when it comes to any type of travel, but our budget led trips allow adventurers to sample Africa without breaking the bank. We're also one of the few operators to use the local payment system. Perfect for those who need to watch their wallet, this means you can "pay as you go" for the majority of activities."
Already a 2011 winner, Acacia Africa's website has recently been recognised by Travelmole – the award given for excellent use of graphics and superb online copy. This year, The World Travel Awards, The British Travel Awards and Travolution also shortlisted the tour operator for its commitment to delivering engaging safari experiences and responsible tourism.
For further information, visit acacia-africa.com.

ATOL No. 6499 and ABTA No. W4093 PROTECTED.

All overland prices are no single supplement and include camping accommodation, transport, most meals and services of a tour leader/guide. Excludes return flight. Discount excludes local payment. 18+ years. Book by 30 September. All prices subject to availability
*41-day Cape Town To Kenya – Only £1,020pp (Full tour price excluding discount £1,275pp) + local payment from £949pp. Guaranteed departures 17 September and 01, 29 October. Starts Cape Town – ends Nairobi.
*29-day East African Explorer - Only £836pp (full tour price excluding discount £1,045pp) + local payment from £685pp. Guaranteed departures 15, 29 September and 13 October. Starts Johannesburg – ends Nairobi.
*25-day Desert Tracker – Only £636pp (Full tour price excluding discount £795pp) + local payment from £571pp. Guaranteed departures 17 September and 29 October. Starts Cape Town – ends Johannesburg.