Australia's Lizard Island, the "Formula One" of heavy tackle fishing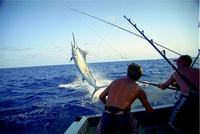 Worldwide fishing enthusiasts are gearing up for another season of heavy tackle fishing off Lizard Island in Far North Queensland as they prepare for the 25th 'Lizard Island Black Marlin Classic' which will take place from 1 to 8 October 2011.
From September through to December the largest black marlin in the world, many of them known as "granders" of over a thousand pounds, migrate to the 150 mile stretch of the Great Barrier Reef between Cairns and Lizard Island to feed off the plentiful tuna and mackerel populations found in the tropical waters.
With the black marlin fishing in this area based on tag and release, chances of catching a giant black marlin are arguably the best in the world.
As part of 25th Lizard Island Black Marlin Classic, experienced anglers will converge on Lizard Island for the week with the prospect of tagging a giant and qualifying to join the prestigious Lizard Island 1000 pound Tag and Release Club.
However, heavy tackle fishing at Lizard Island is not just limited to the Black Marlin Classic. It is available year round thanks to the Lizard Island's luxury Fascination III vessel which is operated exclusively for guests and is available for private fishing or diving and snorkelling charters. Ideal for these waters, the 51ft Riviera Platinum Model Flybridge Cruiser, Fascination III, has a cruise speed of 20 knots and can take up to 10 passengers (including crew).
Lizard Island skipper Craig "Brutus" Newbold has spent five years on Lizard Island and describes marlin season as the "Formula One of fishing".
"I have been lucky enough to catch 1000 pound fish every season. But what makes it so special for me is when we take someone who has never fished before and catch them a fish of a lifetime. For me, marlin season is the Formula One of fishing and it doesn't get much better than up here at Lizard Island," he says.
Award-winning Lizard Island is Australia's northernmost resort, 150 miles north off the coast from Cairns and 16 miles off the coast near Cape Flattery, right on the spectacular Great Barrier Reef, fringed with colourful coral reefs and postcard perfect beaches.
Lizard Island boasts unrivalled dive sites and snorkelling with myriad corals, fish, clams and reef sharks to entertain. Divers can mix with green sea turtles and giant clownfish, and snorkellers are rewarded for little effort with 100-year-old giant clam gardens just moments from Lizard's beaches.
Offering guests exceptional fresh gourmet cuisine from Executive Chef Mark Jensen, guests can enjoy a candlelit dinner on the verandah of Ospreys Restaurant overlooking the beach or a more intimate private dining experience – sand under foot, stars up above – with a 7-course degustation menu on the beach.
For more information, visit lizardisland.com.au