Roxette makes Ischgl's season opening a joyride!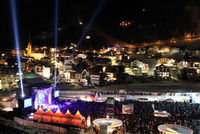 Ischgl's five month long winter ski season will be launched on Saturday 26 November with an open air evening concert by pop duo Roxette.
The Austrian village has a reputation for marking the ski season opening and closing weekends with a high energy rock concert featuring international stars. The pop duo of Roxette joins a gallery of big names to perform the prestigious Top Of The Mountain Opening Concert, which include Katy Perry, Rihanna, Gossip, Leona Lewis, Pussycat Dolls, Lionel Richie and Ronan Keating.
Roxette is the biggest music export from Sweden since Abba, with well known hits including Joyride, Sleeping In My Car, Listen To Your Heart and The Look. Artists Marie Fredriksson and Per Gessle will perform in the village of Ischgl, in the Paznaun valley of the Tirol, with entry free to all who hold a valid two day skipass.
Skiers and boarders can take to the slopes the day before the concert as the ski season begins on Friday 25 November. They have plenty to look forward to, with 44 skilifts opening up to 238kms of groomed piste. The snow-sure resort will operate up to 1 May 2012.
NEW for 2011-12 is the 6-seater chairlift Sonnenbahn B5, which replaces the t-bar Sonnenlift; the Panorama Salettl Idalp slopeside bar; and iSki Ischgl App for iPhone, BlackBerry and Android using a new GPS tracking system.
For more details on all events and activities in Ischgl go to ischgl.com where there is also an accommodation search facility. For example, from 24 to 27 November, three nights' accommodation with breakfast and three day VIP skipass is available from Euro 199 per person.
The nearest airports to Ischgl are Innsbruck (BA; easyJet), Munich (BA; Lufthansa) and Zurich (BA; Swiss).