Australia's Heron Island Ocean Swim to make a splash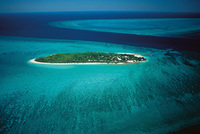 Having completed the likes of the 'Great North Swim', 'Big Scottish Swim' or an icy 'Dip in the Dales', escape to sunnier climes and waters to take part in the inaugural ocean swim in the aqua marine waters off Heron Island, a coral cay on the Great Barrier Reef at the end of October.
As part of its events series, Heron Island is holding a swimming competition around the island, a distance of 3km along the Great Barrier Reef, from 27 to 31 October 2011 in what is planned to be an annual event.
In conjunction with ocean swim organizer, Oceanswims, the competition on Heron Island will be accompanied by well-known, highly respected coaches of elite swimmers, mature age ocean swimmers as well as the vast array of marine life.
The event will include a swim clinic with Graeme Brewer, one of the most respected ocean swimmers and leading high performance swim coaches in Australia.
Brewer was an Australian freestyle swimmer of the late 1970s and early 1980s and a bronze medal winner in the 200m freestyle at the 1980 Moscow Olympics. In all, he has won 13 Australian titles and is also regarded as one of the most outstanding surf swimmers of his day.
Participants can also take part in an 800m short swim to the HMCS Protector, a wreck that was towed to the entrance channel at Heron Island in 1945 to form a dive and snorkelling site.
For more information on the Great Barrier Reef Ocean Swim, visit oceanswims.com.
Heron Island is a coral cay, located right on the Great Barrier Reef, 72km north east of Gladstone. A natural island, it is renowned for its birdlife, crystal clear waters and acres of brilliant coral with colourful marine life.
Heron Island is owned by Delaware North Australia Parks & Resorts, owners of Australian resorts including Wilson Island, El Questro Wilderness Park, Lizard Island and Kings Canyon Resort.
For reservations, visit heronisland.com.