More Jazz on offer for free at The Granville @ Barford!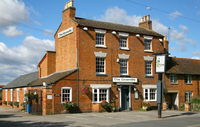 Guests can once again listen to the relaxing sounds of 'Jazz in the Garden' at The Granville @ Barford on Saturday 17 September for free! Mike Dunnett-Stone and Chris Brown will perform for guests in The Granville's superb country gardens from 2pm - 5pm.
Mike Dunnett-Stone is a fantastic jazz keyboardist who was one of the runners-up in 'Barford's Got Talent' contest last year and Chris Brown is an "insane" (apparently) saxophonist who is going to study Jazz Saxophone at Birmingham Conservatoire next year!
Val Kersey, Proprietor of The Granville @ Barford, stated "We very much look forward to seeing Mike and Chris perform for us. We hope the sun will shine but if not, we will host the event inside. It's a great way to spend the afternoon sitting back, enjoying a glass of Pimms or Champagne and chilling out to the relaxing sounds of Jazz!"
The Granville @ Barford is situated 1 mile from the M40 at junction 15 on the A429 sign-posted to Stow-on-the-Wold. Please visit the website at granvillebarford.co.uk for further information.