The ultimate Brazilian land investment opportunity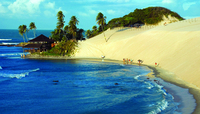 Landcorp International is currently introducing UK investors to an excellent pre-development land investment opportunity at Ecoland Brasil. One of the first developments at Ecocity Brasil, it is a 20,000 acre site which is expected to become the largest eco-friendly residential tourist resort in the country. With a fixed return of up to 191% this opportunity offers the perfect chance to benefit from Brazil's booming economic growth and expansion.
Ailse MacFarlane, Managing Director of Landcorp International comments: "Brazil is currently a hotbed for investment thanks to its booming economy, oil industry and the forthcoming World Cup in 2014 and the Olympics in 2016. As a result, there is a huge demand for residential and tourist accommodation. The land investment opportunity that we are introducing at Ecoland Brasil offers UK investors the perfect chance to reap excellent returns that are currently unheard of in other traditional investment sectors.".

Brazil is one of the world's fastest growing economies. In 2010, the economy grew by 7.5%, its fastest pace in 24 years and according to the World Bank it will become the fifth largest global economy by 2016. Growth in local agriculture and manufacturing industries has played an important role, with companies looking to acquire commodities and natural resources.
Many significant federal programmes to improve housing and the overall infrastructure have also been vital, fuelling growth in the real estate sector and boosting employment. Foreign investors have also been attracted by rising tourism and falling interest rates, which have also helped enable more Brazilians to afford new homes, especially the rapidly increasing middle classes. All of these changes mean that now is the ideal time to invest in Brazil to benefit from the growth and prosperity.
Located in the Parnaiba River Delta in Northeast Brazil, one of the world's most bio-diverse and beautiful regions, Ecocity Brasil is destined to become the largest ecological tourist destination in the country.
Comprising 1.171 acres of currently undeveloped land, Ecoland Brasil's development will include a variety of houses and apartments, commercial outlets and a wide range of recreational facilities including an 18 hole golf course.
Investments start at £20,000, including all fees and taxes. Investors can look to enjoy fixed returns of up to 191% once planning permission is achieved, which is estimated in 2012 or soon after. Investors can then choose to use their investment to purchase a residential building plot or to exit with a cash return.
UK investors can place their investment in a Self Investment Personal Pension (SIPP) or Qualifying Recognised Overseas Pension Scheme (QROPS). Both types of pension qualify for tax relief on contributions and are free of capital gains tax. Investments are managed by a Licensed UK based Trustee governed by UK Law with all funds held in a protected Escrow Account in the investors name.
The overall plan for Ecocity Brasil will include several 4 and 5 star boutique and luxury hotels, several 18 hole golf courses and world class conference facilities. It will also be designed with environmentally sound eco features.
For further information about Ecoland Brasil, visit landcorpinternational.com