Eolic energy development saturates Brazilian rental market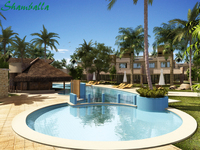 The traditional northeast Brazilian fishing village of São Miguel do Gostoso has become an overnight tourist sensation thanks to year-round sunshine and kitesurf-friendly winds. Yet these conditions have also enticed eolic energy enterprises and their staff to compete heavily with the tourists for rental accommodation. The result is saturation point with property owners now able to 'name their price'.
Samantha Gore, Sales Manager for Natal-based uv10.com and herself a São Miguel do Gostoso property owner, comments, "There is literally nothing available for rent in Gostoso right now. Rio Grande do Norte has emerged as a Brazilian state with high potential for wind energy and, whilst we have two eolic farms in operation now, there will be 62 by 2013, thanks to eight billion Reals-worth of approved investment in this sector. This leaves Gostoso with the enviable problem of demand outweighing supply, with Brazilian and foreign tourists battling the wind farm workers over a limited pool of rental accommodation. Gostoso, a fully functional and exceptionally charming village, may have been discovered by tourists but it is now coveted by real estate developers who see the potential for careful, considered construction. Investors will enjoy the holy grail of a captive rental audience in an increasingly popular location."
Most rental properties in Gostoso (pop. 9,600), which aptly translates as "delicious" or "tasty" in English, are of the petite 'nativo' variety and the lucky tenants who got in early are perhaps only paying 250 Reais or 90 Pounds a month. Nowadays however, owners can name their price for long-term lets charging up to 1,100 Reais per month – around 400 Pounds. Larger houses attract a premium of between 1,500 and 3,000 Reais per month (540 to 1,080 Pounds) but there are simply none available. Similarly, overnight holiday stays, usually in pousadas i.e. boutique hotels, are almost impossible to secure unless booking well in advance and can command up to 500 Reais a night in the festive season - around 180 Pounds.
A solution is on the horizon in the shape of Shamballa. The first, and so far only, condo in Gostoso, this gated residential community occupies a tranquil spot just a few hundred metres away from 30km of pristine white sand beach. Meaning a 'place of peace, tranquillity and happiness' in Sanskrit, Shamballa has a range of amenities to include sports courts, social and barbecue areas, a yoga studio, children's playground and a swimming pool with swim-up bar. The heart of São Miguel do Gostoso is within five minute's walk and brimming with quaint bougainvillea-draped shops, bars, restaurants, banks and supermarkets whilst state capital Natal is a one and a half drive to the south. Shamballa is the ideal environment for holidaymakers, sports enthusiasts and those prolific wind farm workers.
In terms of real estate, Shamballa comprises 16 turnkey townhouses and 46 blank canvas villa plots ranging between 500m² and 900m² in area, with many units now already sold out via uv10. Full rental and property management services will be available for all owners. Conservative rental yield estimates, based on 120 days each year to cover high season and holidays, show returns of 8% per annum even after rental management fees at 15% of income and condo fees of 250 Reais per month for a two to three bedroom property. Any rentals outside of this 120 day period would help to boost that 8% - albeit it a lower daily rate.
Remaining plots start from just 77,317 Reals (27,730 Pounds) for 644m² and a full architectural design and construction service is available. Buyers can choose from a selection of ready-designed two, three and four bedroom properties which maximise light and airflow or opt for the freedom to design their own within the size and height restrictions of the condo. Luxury turnkey townhouses start from 258,000 Reals (92,500 Pounds) for a classic two-storey design up to 297,700 Reals (106,800 Pounds) for a two-storey house plus roof terrace complete with sink, bbq and sea-view Jacuzzi. Payments on plots and townhouses can be spread until completion at the end of 2012. All licenses are in place at Shamballa and construction has begun in earnest.
Watch a short trailer of a feature-length documentary on Gostoso 'starring' the developer of Shamballa talking through his plans: saomigueldogostosoofilme.com.br/trailer.php
Watch a short video about Shamballa and Gostoso: youtube.com/user/uv10brazil#g/a
For information on Shamballa, visit uv10.com.