Darwin, Australia named one of the top 10 cities to visit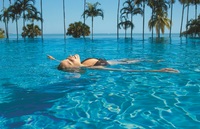 Darwin has been named a 'must visit city' for 2012 in Lonely Planet's annual Best in Travel publication, released on Friday (28th October). The decision was made based on the expertise of Lonely Planet's authors, editors and travel community. The cosmopolitan city of Darwin boasts a vibrant yet laid back lifestyle all centred around the outdoors, from al fresco dining and fine sunsets to beach side markets and sailing.
Fleur Burrows, Consumer Marketing Manager for Tourism NT says: "The accolade confirms our tropical harbour city offers the special x-factor that travellers seek. It is a real coup to be the only Australian destination handpicked by Lonely Planet. We look forward to welcoming visitors to Darwin in the forthcoming year to experience this top city first hand."
Tom Hall, contributor to Lonely Planet's Best in Travel 2012 says: "The top 10 cities were chosen for a variety of reasons. They make the cut because they have something special going on next year, there's a lot of buzz about the place, or because we are tipping it as an up-and-coming destination that you should visit, before the crowds get there. Darwin was selected because it offers a pumping nocturnal scene, magical markets and restaurants as well as world class wilderness areas just down the road. Today Darwin is the triumph of Australia's Top End."
Capital of the Northern Territory, Darwin is Australia's most northerly city, making it the natural gateway to both the Outback and the country as a whole. Located just four hours' flight from Singapore and two hours from Bali, Darwin is considered to be Australia's most culturally diverse city. It has the youngest population of any Australian city.
Other cities to make the list are London, Muscat, Bengaluru (Banagalore) Cádiz, Stockholm, Guimares, Santiago, Hong Kong and Orlando. Lonely Planet's Best in Travel 2012 is now available in stores, priced at £9.99 and through the iBookstore priced at £6.99.
For further information, visit australiasoutback.com/darwin.