The Hahndorf Hill Winery ChocoVino Experience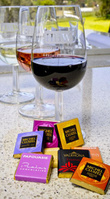 Hahndorf Hill Winery, set in the heart of South Australia's Adelaide Hills, is becoming increasingly well known for its ChocoVino Experience which gives visitors the opportunity to sample the world's most luxurious chocolate matched to South Australia's very own fine wines.
Using a wide range of luxury chocolate brands including award-winning Chuao, Dolfin and the esteemed French chocolatier Francois Pralus, combined with the expertise of Adelaide artisan chocolatier, Steven ter Horst, ChocoVino enables visitors to taste gourmet chocolate and fine wines in a fun and informative manner.
Single origin chocolate is the latest trend to emerge from the world's top chocolate houses and is based on the concept that gourmet chocolate has the ability to reflect terroir - special qualities that the geography, climate and terrain in a particular location have on the cocoa beans that they produce. The same concept is reflected in single origin wines.
The rolling Adelaide Hills, situated more than 700 feet above sea level, benefit from an ideal geography, climate and landscape that combine to provide perfect conditions in which to nurture a range of grape varieties including Sauvignon, Shiraz, Chardonnay and Pinot.
By matching chocolate produced using superior cocoa beans from as far and wide as Papua New Guinea, Madagascar and Venezuala, with award-winning single origin wines, ChocoVino offers exciting, new taste sensations in Hahndorf's spectacular ViewTube tasting room, where breathtaking views of the vineyard landscapes are guaranteed.
Participants will not only discover how the concept of terroir links both chocolate and wine, they will also challenge their tastebuds with unorthodox and exotic flavours not usually matched with chocolate, such as lavender from France, green tea from Japan and pink peppercorns from Brazil.
The selection of ChocoVino experiences is priced from $20 per person including wines and chocolate. Teetotallers may enjoy a 'Purely Chocolate' experience priced from $10pp, which includes a selection of chocolate bars with exotic flavour infusions from around the world, as well as gourmet confectionery from Steven ter Horst.
Grant Coates of Hahndorf Hill Winery, comments: "Ninety-three per cent of people who come through the door are sceptical that wine and chocolate mix. The winery's ChocoVino experience has been able to cut through that scepticism and show just why some rules are meant to be broken."
Bookings are essential for ChocoVino, which is available seven days a week, 11am to 5pm, excluding public holidays.
For more information, visit hahndorfhillwinery.com.au.