Marvellous Mallorca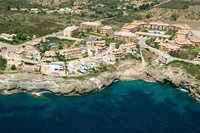 Mallorca has enjoyed a generally positive 2011. Whilst mainland Spain has been hit with a severe property slump, this treasured Balearic Island has maintained its stronghold as a superb and highly desirable investment destination. Taylor Wimpey España's property sales rose by 15% both in September and year to date which certainly does not reflect the general mood in Spain.
Yes property prices may have experienced some correction but prime residential developments have been selling like hot cakes. So what lies under the surface to keep Mallorca top of the props?
Porto Cristo - quite literally meaning 'The Port of Christ' - is one of the best kept secrets in Mallorca. While some areas have been a victim of a mass tourism influx there are still towns and villages on Mallorca that have retained their soul and Porto Cristo is certainly one of them.
Located on the east coast of the island, Porto Cristo is not a long drive from the capital, Palma and the international airport. The town dates back to 1250 AD when the Christians invading Mallorca found a fishing boat washed up on the beach containing a crucifix, hence the religious name. Others say that an ox carrying a religious symbol stopped here and refused to go any further, leading people to believe this was a sign that Christ wanted to remain there.
Whether it was the oxen or the washed up fishing boat does not alter the fact that Porto Cristo is special. Still maintaining its Spanish fishing village influences, this natural harbour is a safe haven from the occasional storm that rages through in the winter. This town has not been subjected to a string of noisy nightclubs or tacky English pubs, Porto Cristo is a place for rest and relaxation, a gentle mix of old and new which has been thoughtfully put together to ensure that the harmony of the village is retained.
Sumptuous Spanish food is available from a good selection of restaurants catering for mixed budgets. Spoilt for choice with piping hot Paella, tapas or local dishes you will not run out of places to try. Or if cooking is your way of enjoying life then the fresh food markets in Porto Cristo are a foodies dream - with plentiful fresh fruit and vegetables or fish caught that morning, the choice is yours!
Strolling down to the harbour in late afternoon to watch the world go and admire the fishing vessels or beautiful yachts in the harbour is one of Porto Cristo's treats. Or if you are an early riser there is plenty to watch as the sun rises out to the east - the harbour is full of activity with fisherman setting sail for a day's work.
The harbour is also home to a small selection of tourist boats that will take you out on a day trip to enjoy Mallorca from the water. Guaranteed to be a fun day with plenty of swimming, snorkelling and diving, you will get to see coves and beaches that are inaccessible from the land and very beautiful with staggeringly blue seas and brightly coloured fish to admire.
A small beach set in the very heart of Porto Cristo is just perfect for the children to play on whilst you are enjoying a leisurely Sangria, or try out one of the larger beaches just a short walk out of the town.
Marc Pritchard, Sales and Marketing Director of Taylor Wimpey España, comments on Porto Cristo: "I have never spoken to a prospective client that has not utterly loved Porto Cristo. It is exactly what people are looking for when they think of Spanish villages. We are very fortunate to have a development just five minutes from this delightful town. To be honest it makes our job of selling homes to investors so much easier. We show them our beautiful development at Cala Magrana and then top off their trip with a glass of chilled beer in Porto Cristo - it would have anybody wanting to come back for more.
"The fabulous thing about the east side of Mallorca is the diversity it offers to our clients. You can have a rip roaring night in Cala Millor but essentially this area is loved for its beautiful scenery, clean sea and very calm Mallorcan living."
Following the success of Cala Magrana, Taylor Wimpey España has launched a further phase comprising another 21 apartments. All apartments have sea views and there is direct access to the sea, with Cala Anguila beach just 500m away. The residential complex is situated close to the sea and very close to golf courses and the marina of Porto Cristo.
Mrs Barbara Hibbert from Milton Keynes in the UK bought an apartment in Cala Magrana in 2005 when it was originally launched. Her and her husband have furnished the apartment with the same love and care of their home in England. We wanted a place which would be home from home for us and that is exactly what we have created with the help of Taylor Wimpey España. She explains: "It was essential to us that the property we bought would be somewhere we could live in - not just a holiday cottage. The developer has put a great deal of effort into ensuring this is possible - high quality kitchen and bathrooms with branded white goods, things like fitted cupboards and I really could not do without my utility room."
Mrs Hibbert tells us what is so special about Porto Cristo: "The restaurants really are tremendous - a great variety with good selection. We drink the local wine here - Binissalem - it is well priced and really tasty. Porto Cristo is a small fishing village with some tourist extras - for instance there is a market here every Sunday which we love to go and potter around. And the glass bottomed boat journey which goes from Porto Cristo just up the coast and into the well known caves of Drach is something not to be missed'.
"Our lovely bay at Cala Magrana has sea entry off the rocks, but if you are in need of a beach there are two within a quick walk - either at Cala Anguilla or in Porto Cristo itself - which has the added benefit of all the lovely restaurants to choose from for lunch or after beach sun-downers. Anyone buying now have the added benefit of all the fabulous plants that Taylor Wimpey has introduced and have now grown quite huge!"
The new apartments being built at Cala Magrana will comprise 2 bedrooms and feature traditional Mallorcan design surrounding a communal garden with swimming pool. Prices start from €220,000 + VAT.
For more information, visit taylorwimpeyspain.com.