New-year launch for Oxfordshire developments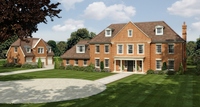 House-hunters looking to make a shrewd purchase will be interested to hear that the start of the new year brings with it the launch of award-winning Millgate Homes' two latest developments in Oxfordshire.
Boars Hill Park, a collection of just four six-bedroom country homes in Boars Hill, each, will open its doors on 28 January, while, the following week, on 4 February, The Croft, in Marcham, which features five four- and five-bedroom executive family properties, will launch.
Visitors to each development will be given a taste of the lifestyle which they could experience living there, as well as witness, first hand, the true pedigree of these properties, thanks to the new show homes which have been professionally styled, to Millgate's exacting standards, by Alexander James Interiors.
Each property at Boars Hill Park is set in a generous two to four acres of land and, as well as boasting an impressive square footage of accommodation, spread over three storeys, including a master bedroom to rival the type of luxury suites found in the world's top five-star hotels, three of the homes feature outdoor heated swimming pools, with lavish pool houses and a shared tennis court. The fourth property will have its own indoor leisure complex, complete with swimming pool, outdoor tennis court and pavilion, which demonstrates the calibre of the homes with which visitors will be dealing.
At The Croft development, the properties feature spacious rooms in the form of an open-plan kitchen and conservatory, as well as a formal drawing room and dining room. Two of the bedrooms also include en suite facilities.
In the external surroundings of each of these new homes, purchasers can expect manicured lawns and established foliage, beautifully designed and planted by Millgate Homes' Chelsea award-winning landscaper.
David Wrigley, head of sales at Millgate Homes, comments: "We are excited about our new developments' forthcoming launches. The team at Millgate Homes has been working hard to bring a calibre of homes which house-hunters in the area are unlikely to find anywhere else. Each development may appeal to different types of purchaser, but what all of them will surely agree on is that our high-specification properties are second to none."

For further information, visit millgatehomes.co.uk.