Nova Scotia's ship comes in with $35 billion shipbuilding programme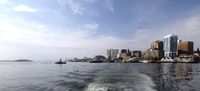 The business community of Nova Scotia, Canada, is bracing itself for an influx of cash and people thanks to a $35-billion CAD Federal Government shipbuilding programme. Thousands of direct and indirect jobs will be created at the contract-winning Irving Shipbuilding Inc (ISI) each year and international removals company Anglo Pacific is gearing up to relocate the many professionals set to move from the UK and fill those roles.
Anglo Pacific works in partnership with emigration specialists, UK 2 Nova Scotia, which acts for Halifax-based Irving Shipbuilding to attract skilled workers from the UK. Director Mike Wilson believes that the impact on Halifax should not be underestimated. "As the Regional Municipality of Halifax on Canada's eastern seaboard has a population of less than 400,000, the creation of thousands of new jobs each year will literally signify a wholesale change in direction. New skills from core shipbuilding through to construction, IT and engineering will need to be imported into Halifax with Canada, the US and specifically the UK as key source nations."
The largest shipbuilding deal in Canadian history, the October 2011 announcement tasks Halifax-based ISI with building 21 combat vessels for the Navy in a $25-billion deal over the next 30 years. The first steel is expected to be cut in late 2012. Estimates suggest that the activity will account for more than 1% of total employment in the province and that real GDP will see a boost of around $800 million CAD each year. Once the warships are complete, a fresh round of Government work is expected to be awarded. The news gives the region's economy a long-term stable outlook.

Mike continues, "Canada's traditional immigration processes have changed over recent years meaning that most skilled workers looking to make the move to Nova Scotia will now follow a path of work permits and subsequent residency applications on the back of a job offer. Timelines for this can be very quick, weeks rather than months and years, and Irving is targeting the UK, Glasgow in particular, to find the skills they need in 2012. We're already handling plenty of relocation enquiries from that direction."
Founded by the British in 1749, chic cosmopolitan Halifax offers immense appeal to migrant workers. A historic water front, generous helping of open parkland, huge student population courtesy of five universities and plenty of arty shops and eateries keep the city vibrant but house prices remain low, less than half of those in western Canada.
Jason Diggs, Sales Director for Anglo Pacific, adds, "This affordability, combined with a high standard of living and low crime rate, has earned Halifax status as one of North America's fastest growing cities. English speaking and the warmest province in Canada, it is easy for a newcomer to assimilate to the Halifax way of life and the rugged coastline and emerald mountains of Nova Scotia, perfect for outdoor pursuits, may even remind them of Scotland – easily visited as Halifax has the closest international airport in mainland North America to Europe."
For more information on emigrating to Nova Scotia visit uk2novascotia.com and for all your international shipping requirements visit anglopacific.co.uk.