New Lipstick collection from Miners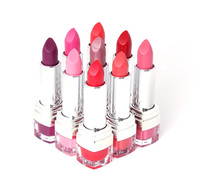 The beginning of 2012 sees the launch of a new and improved Lipstick collection from Miners Cosmetics. The ranges see the return of some of our favourite shades alongside fresh, new colours. The redevloped formulation ensures longer lasting, and super-saturated colour whilst the fashionable packaging looks totally style-savvy.
The collection includes:
Moisture Effect
Moisture Effect is an entirely NEW moisturising Lipstick collection by Miners Cosmetics. Infused with Aloe Vera & Jojoba, Moisture Effect will simply glide onto lips locking in moisture whilst leaving them saturated in juicy colour.
The Moisture Effect collection consists of four cleansing colours: Kiss Me Quick, Hush Hush, English Rose and Moulin Rouge.
Matte Effect
Having evolved from the popular Fashion Matte Lipstick range, Matte Effect is specially formulated to leave your lips saturated in high pigment, matte colour without leaving them feeling dry and flaky.
Alongside old favourites Barely Buff and Vixen, Matte Effect has two completely new shades - Wonderland and Fiesta.
Lip Colour
Lip Colour glides onto your lips with ease, leaving them drenched in vivid and velvety soft colour. The new and improved formulation is specially developed to coat your lips in a super-saturated colour without leaving them dry or flaky.
The range consists of vibrant classics, sultry shimmers and a new recruit for 2012 (Icon) - Cinnamon, Mulled Wine, Dreamer, Pink Shimmer, Glamour Girl, Vogue, Seduction and Icon.
RRP £3.99
The complete Miners Cosmetics Lipstick Collection is available online at minerscosmetics.co.uk.