Last chance to buy a new home for less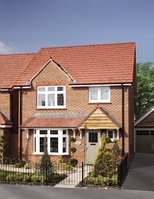 First time buyers must hurry if they want to save almost a third off the initial price of a brand new home in Doncaster.
Redrow's Danum St Giles development is one of a diminishing number of places where HomeBuy Direct is still available. But with funding under the scheme about to run out, those who want to buy a new home for less must act now to avoid disappointment.
Those who reserve a home before mid-February could save more than £40,000 off the initial price thanks to the Government-backed scheme.
Patsy Aicken, sales director for Redrow Homes (Yorkshire), commented: "HomeBuy Direct is designed to help those who would otherwise be priced out of the property market to buy a home of their own at a price they can afford. It's been a great success at Danum St Giles but time is running out for those who want to take advantage of the scheme. I'd urge anyone who dreams of flying the nest or escaping the rental trap to contact us without delay, even if they don't have a large cash deposit."
Just five homes are still available at Danum St Giles, adding to the urgency for those who want to snap up a new home for less.
The remaining properties offer a choice of three and four-bedroom homes, with prices from £154,999 or £108,499 with HomeBuy Direct.
The valuable help offers customers the chance to take out an equity loan for up to 30% of the purchase price of a brand new home. This reduces the overall size of the mortgage required and, more importantly, the improved loan-to-value ratio (LTV) means lenders generally ask for a much smaller deposit.
"Thanks to HomeBuy Direct first time buyers won't need to compromise on style to afford a home of their own. Instead of settling for an older property that may need lots of modernisation, they'll be able to experience the joy of owning a brand new Redrow home. With integrated kitchen appliances including microwave, oven and fridge freezer they won't have to worry about buying and installing white goods," Patsy added.
"Householders could also save money on the cost of running their new home as with double glazing and central heating included as standard they're more energy efficient than their older, second hand counterparts."
But it's not just first time buyers who can find their dream home at Danum St Giles. Help is also available for those looking to move up the property ladder. Buyers with an existing home to sell could find they're able to use it to part-fund a move up the property ladder with part exchange.
For further information, visit redrow.co.uk.