Catwalk inspiration for Brabantia's limited edition retro bins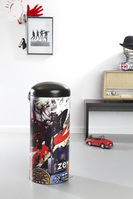 Brabantia, well known for fusing beautiful design with innovative functionality, has taken inspiration for its latest Retro Bins from the worlds of fashion and interiors, where both girly candy colours and gritty urban street art are all the rage.
One of this season's key colour trends for both the home and on the catwalk is a nostalgic palette of pastel shades and pretty patterns. And Brabantia is embracing this with the launch of a limited edition 'I've BIN Romantic' Retro Bin by Dutch born artist, Gerda Simmer-Elzenaar, winner of Brabantia's Iron in Style contest 2011.
But it's not all hearts and flowers. Joran Van der Haar winner of the 2010 Iron in Style has designed the striking 'London' Retro Bin featuring iconic symbols from the capital including Big Ben, the Queen and the Eros statue, a must-have for street and urban art fans.
David Slater, Sales Director at Brabantia, said: "Our customers are looking for essential products that reflect the wider fashion trends. They want inspirational, statement pieces for their homes. From quite different design extremes, both edgy urban graffiti styling and pretty prints and colour combinations featured on the runways this season, so we're extremely excited to release these new bins that will keep people's homes on trend."
Both 30 litre Retro Bins have the same characteristics as their 'regular' counterparts: plastic inner bucket, sturdy body, the domed lid and sleek design. A welcome new feature is the high-tech MotionControl Whisper Lid, for easy and silent opening and closing.
The Retro Bin is covered by a 10 year guarantee. Brabantia products are available from leading retailers, including high street department stores, superstores, quality independent housewares and kitchen product specialists.
For more information, visit brabantia.com.