Number of Cape Verde hotel units up almost 10% year-on-year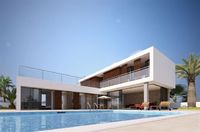 Official figures released in March from the Cape Verdean National Statistics Institute (INE) show that the number of hotel units across the archipelago rose by a mighty 9.6% year-on-year, from 178 hotels in 2010 to 195 in 2011. Even more interesting is the fact the hotels are getting larger to cater to demand with the number of rooms rising a huge 34.1% for the same period.
Adam Cornwell, Managing Director of Feltrim International promoting real estate on the Islands, comments, "Cape Verde is one of the fastest growing tourist markets in the world and inevitably the hotel industry is responding. These 17 new hotel establishments added 7,900 rooms and 14,000 beds to 2010 figures, yet there's still plenty of room for growth as tourist arrivals continue to increase by around 20% per annum. It is projected that Cape Verde will reach half a million tourists annually by 2015 and one million by 2020 as northern Europeans wake-up to the potential of this mid-haul winter sun destination."
This news comes hot on the heels of a positive report from holiday rentals website HomeAway. Not only did Cape Verde enter the top ten holiday destinations for the first time, but it ranked an impressive fifth most popular destination for booking enquiries between October and December 2011. The website said it was a hot mid-haul market emerging as a strong winter sun rival to the Canaries and highlighted the increase in hotels, charter flights and package holidays over the last few years. Skyscanner also ranked Cape Verde highly, in third place, on its list of emerging destinations in 2011.
With additional hotel units of course comes additional employment opportunities in Cape Verde and the same report stated that employment within this sector increased by a welcome 27.6% from 2010 to 2011. Geographically, the Islands of Sal and Boa Vista boast the greatest number of hotel units, 44.7% and 31.1% of the total respectively – a number of them now of five star rating to cater to the demand from discerning guests after the ultimate in luxury. Boa Vista in particular is working hard to maintain its 'five star status', emphasizing quality over quantity, and keeps a tight control over build density to protect the environment and promote sustainability for investors and locals and avoid over-saturation.
Joining the five star fraternity is the Santa Mónica Beach Resort & Spa on the Island of Boa Vista. With many of the 1,140 units available for sale on a freehold basis, the Resort combines a five star hotel with luxury one and two bedroom apartments and two to five bedroom villas each with private pool.
As an indication of its excellence, some serious heavyweights have put their name to the project including Wyndham, the largest hotel operator in the world, to handle guest services and rental management alongside ESPA, a global award-winning Spa operator, to provide blissfully relaxing treatments and products.
Santa Mónica Beach Resort & Spa will have a range of gourmet seafood, oriental and fine dining restaurants, childcare services and on-site coaching at the tennis complex alongside mountain biking, big game fishing, diving, windsurfing, sailing and 4x4 safaris in the local vicinity. A championship standard golf course is planned for alongside the Resort. Meanwhile the beach at Santa Mónica is well known as one of the world's key turtle nesting sites as well as being a breeding ground for humpback whales and home to many native and migrating bird species.
Hotel occupancy, according to the Government, is currently 90% and there is no low season due to average daily temperatures consistently hovering between 21ºC and 30ºC which is warmer and more reliable than even the Canary Islands – excellent news for strong rental yields. Boa Vista's International Airport takes direct 5.5 hour flights from Glasgow, Gatwick and Manchester and flights from Bristol and Stansted are to be added giving UK visitors greater flexibility. Direct flights to Cape Verde are also in place from Lisbon, Madrid, Milan, Frankfurt, Brussels, Boston and beyond which again helps boost rental yields.
For a limited time early investor discounts of 30% for cash buyers mean prices start from just 83,300 euros for a one bedroom apartment and 325,500 euros for a detached three bedroom villa. Finance options of up to 90% are available making ownership of a one bedroom apartment achievable from just an 11,900 euro deposit. There are also rental and leaseback plans offering up to 7% fixed income with allowances for personal use. Santa Mónica Beach Resort & Spa also qualifies for SSAS and SIPP purchase via fully managed hotel suites from 85,000 euros (official valuation 162,000 euros) with ten-year guaranteed 7% rental income. Licenses and planning permission have been granted and construction is underway on site with phase one scheduled for completion mid 2013. Santa Mónica Beach Resort & Spa offers a unique chance to purchase top-quality property in a prime location - while prices remain low.
For more information, visit feltriminternational.com.