Cape Verde on the brink of a tourism boom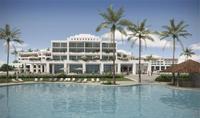 According to research by the World Travel and Tourism Council (WTTC), Cape Verde features in the top ten countries in the world for long-term tourism growth (2014 – 2024). International property investors are already reaping the rewards.
Samantha Gore, Sales Manager for international estate agents uv10.com, says, "Whilst many still struggle to place Cape Verde on a map, this beautiful archipelago of ten islands is punching above its weight in tourism terms. Not only does the WTTC place the so-called European Caribbean in its top ten for long-term tourism growth, but the Islands' own National Institute of Statistics state that tourism is up 115% since 2000 and officials expect one million visitors in 2014. Cape Verde is certainly a hot travel destination of the future and an investor's dream."
Figures from the WTTC also show that travel and tourism directly contributed 16.2% of Cape Verde's total GDP in 2013 and this is expected to rise to 20% of total GDP by 2024. This places Cape Verde 40th out of 184 countries for its growth forecast in 2014, and an impressive 10th for long-term growth over the next decade. Meanwhile, in 2013 travel and tourism directly supported 32,000 jobs, 14.5% of total employment, by 2014 this is expected to increase to 64,000 jobs or 23.3% of total employment.
Samantha continues, "Cape Verde's potential hasn't gone unnoticed amongst global hotel chains. On 6 June, Hilton laid the first stone on their 46 million euro 240-room hotel on the island of Sal, the first of the luxury chain in Cape Verde. Meanwhile Spanish chain Melia has four hotels either open or in the pipeline with its first, Melia Tortuga Beach, recently celebrating half a million visitors since opening in 2011. Melia Dunas Beach Resort follows in November this year and Melia Llana Beach in 2016. We are now inviting investors to participate in the fourth Melia project due to open in 2018 but with 7% returns from day one. Entry level investment is just 10,000 pounds and sales are brisk."
A thousand miles south of the Canary Islands, on the same latitude as Barbados, Cape Verde offers beautiful beaches, green mountains, guaranteed year-round sunshine and an average temperature of 27ºC. The Islands now receive more than 40 international flights a week and, for visitors from the UK, the flying time is just five and a half hours. There is no jetlag at just one hour behind GMT. Cape Verde, whose currency is tied to the euro, also offers political and economic stability with the archipelago's central bank predicting GDP growth of between 1.5 and 2.5% in 2014.
Off-Plan Investment in Melia Hotel in Cape Verde

Melia's latest five-star hotel project in Cape Verde is to open in 2018 but investors are able to take part, and reap returns, right now. £10,000 GBP buys 1/16th of an off-plan Garden or Premium Suite hotel room and in return 7% per annum guaranteed interest is paid from day one and for four years, or until the opening of the resort, whichever is first. Once the development is complete, the unit joins the rental programme. As an example, Melia Tortuga Beach is already returning 6 to 9% per annum to buyers. There will also be a guaranteed buy-back at open market value three years after operations commence.
Price - £10,000 GBP (including all legal closing costs and taxes)
For more information, visit uv10.com.