Cape Verde credited with reinforcing positive image for West Africa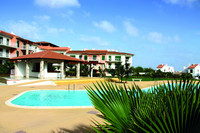 According to the 2012 Doing Business Report published by the World Bank Group, Cape Verde has made an enormous contribution to the positive image of West Africa over recent years. This is largely due to strong growth in the Islands' tourism sector and specialist Cape Verde property agents Feltrim International have been keeping a close eye on progress.
Managing Director of Feltrim International, Adam Cornwell, explains, "Cape Verde's tourist industry has huge potential. These are the closest tropical islands to Europe, less than six hours flying time to the UK with little or no jetlag, making them a credible winter sun alternative to the Canary Islands but far more affordable. With no off-season and appeal in the shape of windsurfing, scuba diving, game fishing and endless sun-soaked sand beaches, tourist arrivals are rocketing. In 2011 in excess of 475,000 tourists visited Cape Verde, only about 100,000 shy of its native population, and by 2015 one million arrivals are envisaged. This is fantastic news for emerging market property investors."
The Doing Business Report affirmed that the sub-Saharan region was well on its way to losing its typical association with poverty and inaction. Cape Verde was credited with reinforcing this positive image by adding a dynamic to the tourism sector and sparking strong growth. Cape Verde's office of State Reform went on to say that improvements in stability and the business environment had also attracted foreign investors put off by the ongoing crisis in traditional markets. In fact Cape Verde featured on the list of top ten most reform-minded countries in the world between 2009 and 2012.
This positivity fuelled by foreign investment, tourism and increased exports points to continued GDP growth with Fitch Ratings expecting GDP to grow by nearly 5% in 2012 and 2013. The IMF pointed out, the "prudent management and strong economic foundations" undertaken by the Cape Verdean Government have allowed the country to "resist the impact of the global crisis well." The environment is ripe for a very strong property market.
Adam continues, "We have several property propositions in Cape Verde including the very special off-plan Santa Mónica Beach Resort & Spa on the island of Boa Vista. However, buying an off-plan property in an emerging market is a bit of an unknown quantity for some which is why we've recently added Vila Verde, a completed resort on the island of Sal, to our portfolio. It's good quality, fully operational with a rental management programme and excellent value with good payment terms – a comfortable option for cautious investors keen to benefit from the growth still to come in Cape Verde."
Within 15 minutes drive of the International Airport and ten minutes of the capital Santa Maria, Vila Verde has direct access to the beautiful white sand beach of Ponta Petra. Built in a colonial village style, the resort is interspersed with walkways, botanical gardens, restaurants and shops giving a relaxed but convivial ambiance. The properties share 17 swimming pools set in country club communities alongside tennis courts and children's play areas. Additional facilities include two supermarkets, two restaurants, a disco and Jazz club, ice cream parlour, travel agency and watersports centre.
The apartments Feltrim International has to offer in Vila Verde conform to European building specifications including fire detectors in each home, lifts to all floors and video entry. The developer has furnished every apartment to "rent-ready" standards, including appliances, and also installed air-conditioning throughout to minimize acquisition costs on the part of the buyer. They're even covering the closing costs, generally 6% of purchase price, as an additional sweetener.
In a bid to maximize profitability for purchasers, Vila Verde has a full rental management programme in place. The optional scheme splits net rental income (after a 15% commission) 60:40 in favour of the owner. Running costs, apart from community fees and building insurance, are paid by the management company and owners will enjoy complimentary departure cleaning and housekeeping during their permitted personal use period as well as a 15% discount on resort services via the Vila Verde Owners' Club. Various global tour operators have pledged their marketing support to the resort and rental returns are predicted at 9.7% gross per annum based on a conservative 75% occupancy rate.
Studio apartments are priced from 68,500 euros (approx 55,024GBP), one bedrooms from 99,800 euros (80,167GBP), two bedrooms 132,400 euros (106,354GBP) and three bedrooms 176,300 euros (141,618GBP) – this is 20% below current market valuations. Additionally, Vila Verde is a low money down investment opportunity with just 4,791.60 euros (3,853GBP) all in required to secure a studio apartment and up to 96% loan-to-purchase price 25 year term mortgages available via Banco Espirito Santo (BES).
For more information about your Vila Verde property, visit feltriminternational.com.