Meliá Dunas Beach Resort & Spa welcomes first holidaymakers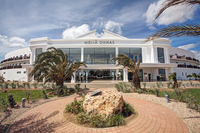 The Resort Group's newest overseas property development, Meliá Dunas Beach Resort & Spa, opened its doors at the weekend to holidaymakers wanting a first-class experience in Cape Verde.
The resort on Sal Island, developed in partnership with Meliá Hotels International, is set to significantly drive tourism in Cape Verde and give visitors an unrivalled level of luxurious accommodation. It also gives investors looking for high returns on their money an exciting and secure option for their property portfolio. The resort offers a lucrative investment opportunity in an area growing in popularity.
"We are incredibly proud of the Meliá Dunas Beach Resort & Spa," said Rob Jarrett, Chairman at the Resort Group. "It is an excellent example of both a high-end holiday property investment and tourist destination. For investors looking to expand their portfolio, the resort represents a chance not to be missed and, for travellers, it represents a luxurious resort that is second-to-none."
Meliá Dunas Beach will quickly earn a reputation as an attractive option for winter sun and summer getaways thanks to its year-round warm temperatures. Beautiful inside and out, every aspect of the development oozes style and quality and is finished to the highest specification. There are 1,251 hotel rooms, apartments and villas, making it much larger than The Resort Group's first property development Meliá Tortuga Beach, which opened in May 2011 and has 372 units. In total, there is around an acre of pool space (five pools in total – three feature bars, one has hydromassage jets and two exclusively for children). The resort is well suited to families but also includes adult-only areas for those looking for a more grown-up experience. A waterpark is also in development and will open in the new year.
The large resort will continue to impress holidaymakers with its 14 bars, six restaurants, gym, Yhi Spa and hairdressing salon. Eatery options include a choice of a la cartes, such as traditional Cape Verdean cuisine, an Italian and fresh seafood. Bars offer entertainment for visitors every day and the variety of classes and activities is second-to-none, ranging from wine tasting, dancing and photography to beach volleyball, kite surfing and scuba diving.
"Tourism is incredibly strong on the islands and the demand for five-star accommodation is outstripping supply," Jarrett added. "Cape Verde is therefore a fantastic property investment location and we expect it to become hugely competitive. As the islands continue to develop, the cost to holiday in Cape Verde is only going to get higher, and we would advise potential investors to make their move early to maximise returns in this exciting market."
Overseas property investment is one of the most popular routes for strong returns as it offers security and opens multiple routes for generating revenue, including capital growth as well as rental income. The Resort Group offers highly competitive pricing across all options, from fractional investments and pension-funded purchases to outright property ownership. Properties can be purchased outright from £170,000, and fractional investments are available from £20,000. For properties on Meliá Dunas Beach, buyers have been a mix of cash purchases and pension schemes.
The Resort Group fully funds the construction and operation of its resorts, ensuring a focused and prudent approach. Its first Cape Verde project Meliá Tortuga Beach has seen consistent growth in occupancy since opening and has welcomed over half a million guests. All clients and property owners are now receiving quarterly rental returns. Now Meliá Dunas Beach is open, The Resort Group is focusing on the development of Llana Beach Hotel on the Sal island plus there are plans for six new resorts on neighbouring island Boa Vista.
"The islands are projected to attract one million visitors by 2015 and our plans are evidence that Cape Verde is an increasingly popular tourist location, and that investment in the tourism market and the islands' infrastructure is moving forward quickly."
For more information on Meliá Dunas Beach Resort & Spa, visit dunasbeachresort.com.